How to spend two days in Brussels – Tips from a local
Hi friends and travellovers, welcome to my blogpost about Brussels, Belgium's beautiful capital. In this article you will get inspired on how to spend two days in Brussels based on a local's tips.
Belgium's capital is not only the heart of Europe but also a culturally rich city with amazing people, artsy vibes and amazing food.
I have actually spent lots of time there in the past visiting my partner Damien when he used to live there. That's also the reason why I'm able to provide you with great inside tips – he was born and raised in this beautiful city! We still go there on a regular basis to spend time with his family and friends.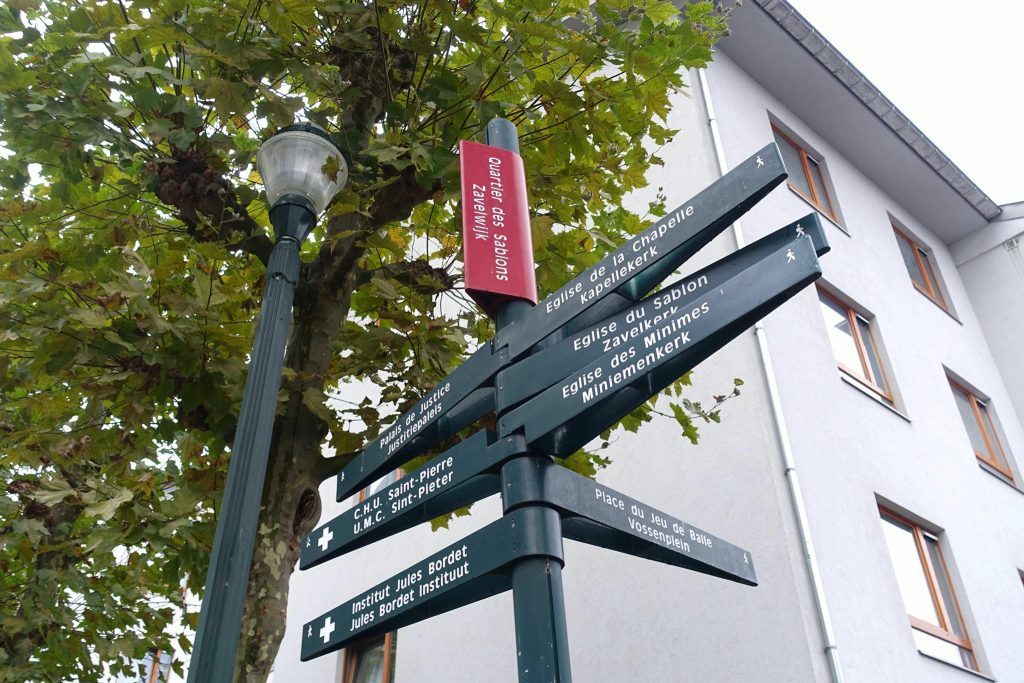 So how can you spend two days in Brussels?
Let me give you a short overview of what you can expect to learn from this article:
What is Brussel's charm all about?
How to organize sightseeing in two days
Food in Brussels – Best tips and addresses
Enjoying some relaxing time in the city
In addition, feel free to watch our YouTube video to get more detailed visual impressions:
What is Brussel's charm all about?
So first of all: Why is Brussels even worth a visit? Sure, it is called the capital of Europe and important for politics and economy – but why should you spend two days in Brussels?
Well, there are several reasons. From my experience, Brussel's charm is based on the fact that it's a comparably smaller city. That being said, people in Brussels are incredibly proud of their culture, their amazing food and all the artsy vibes in the city – and they love to share that with you!
Just look at the video above and watch the dance party at Grande Place – you won't find this anywhere else!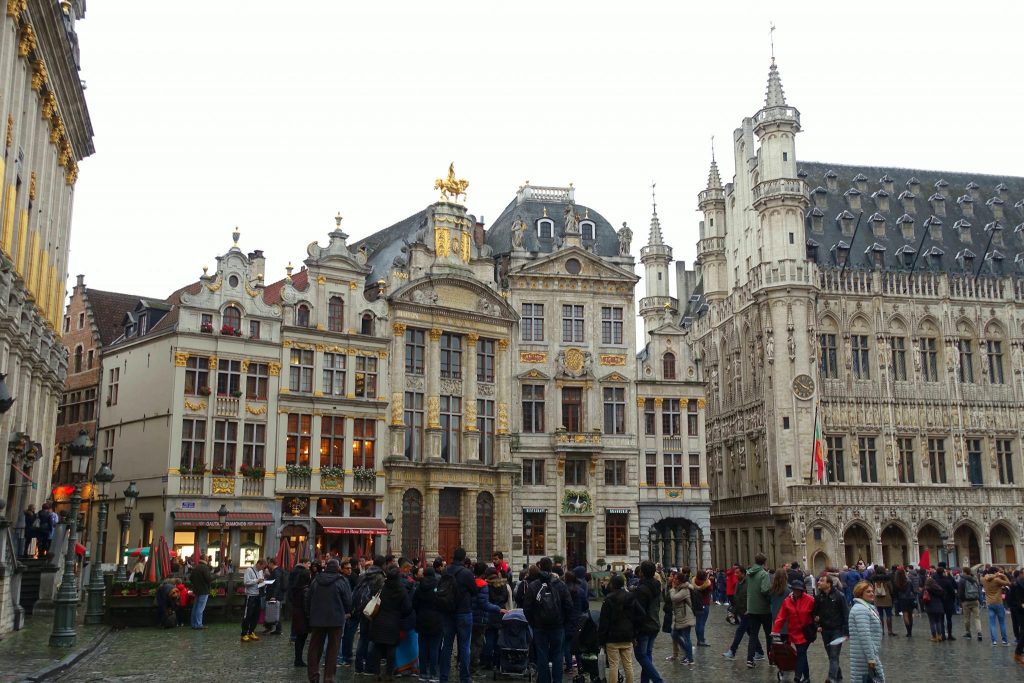 Why choose Brussels over bigger cities like Paris or London?
While going to Paris for example is more of an anonymous and mass-touristy experience, the city of Brussels has a warmer and friendlier vibe going. Being there you will feel like you are in the heart of Belgium and really learn about the country's spirit.
There are so many hidden gems in this city! Do not expect to find them all alone – they are often not that obvious. That's what this guide is all about ;).
For up-to-date events it is also always worth speaking to people you'll meet in bars, cafés or simply in the streets – they will share them with you!
If you're in Brussels for the first time, I highly recommend visiting some cafés, bars and brasseries and simply take a stroll in the little streets – you will be inspired to explore more!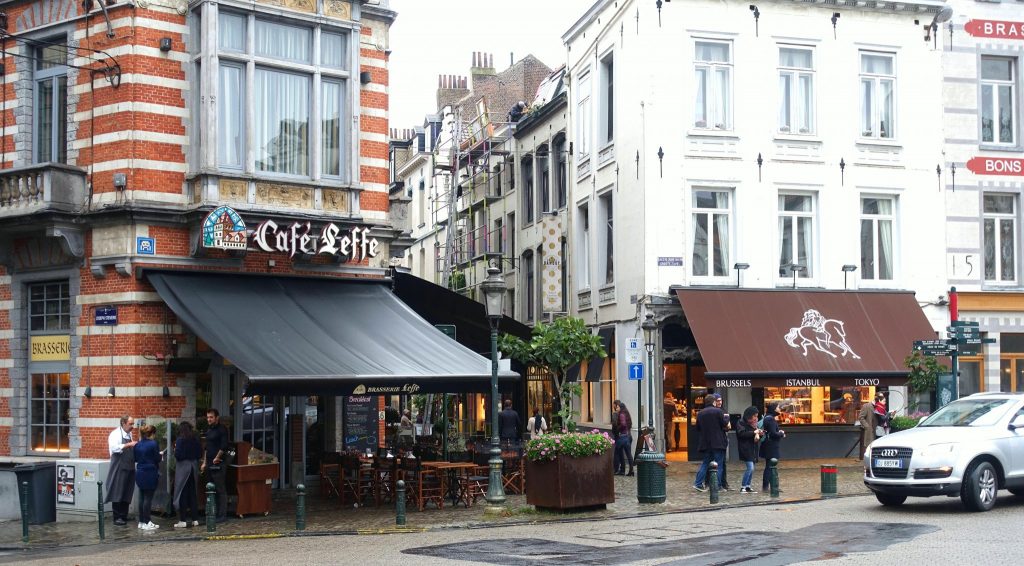 Place du Grand Sablon is a great place to start on a Saturday morning. You will find typical places like bars, brasseries and chocolate shops. Just take it from there and continue exploring the little streets and shops.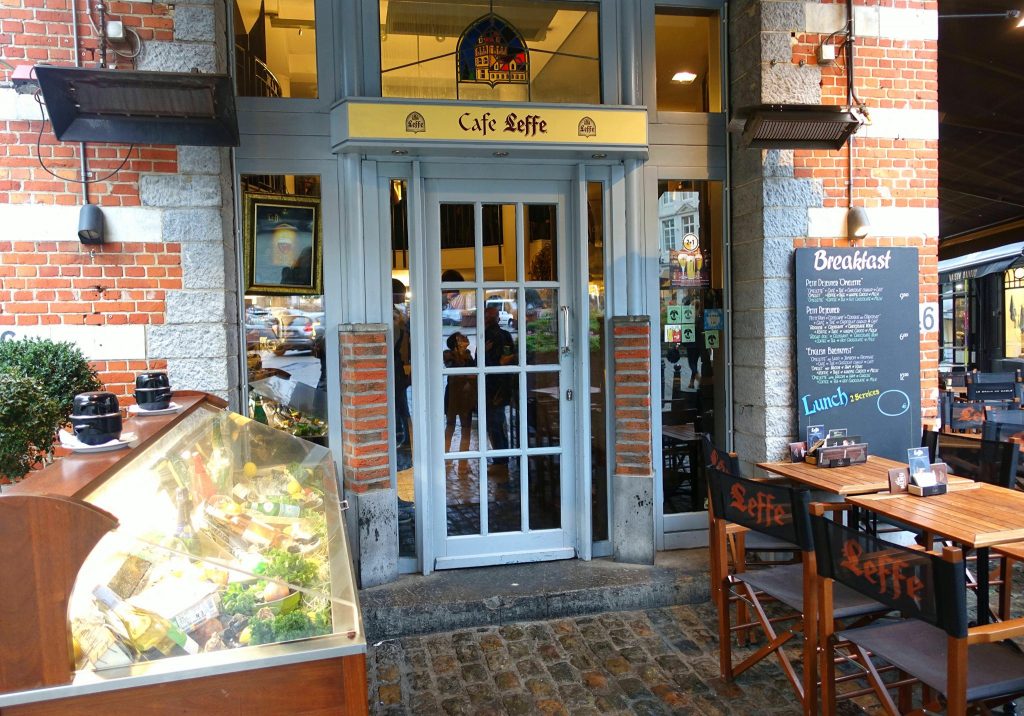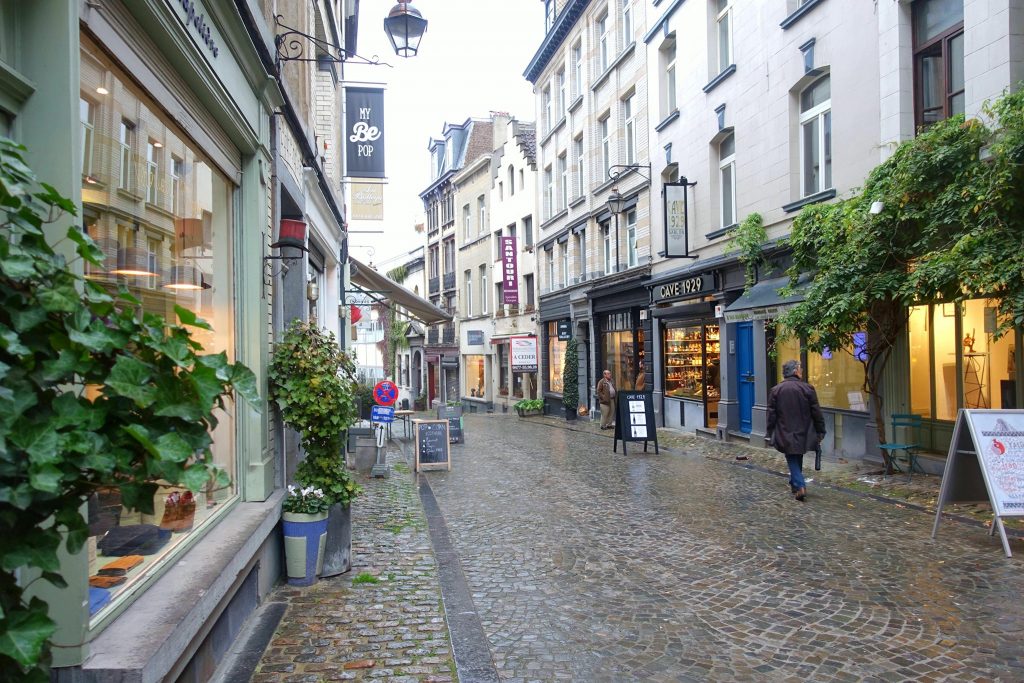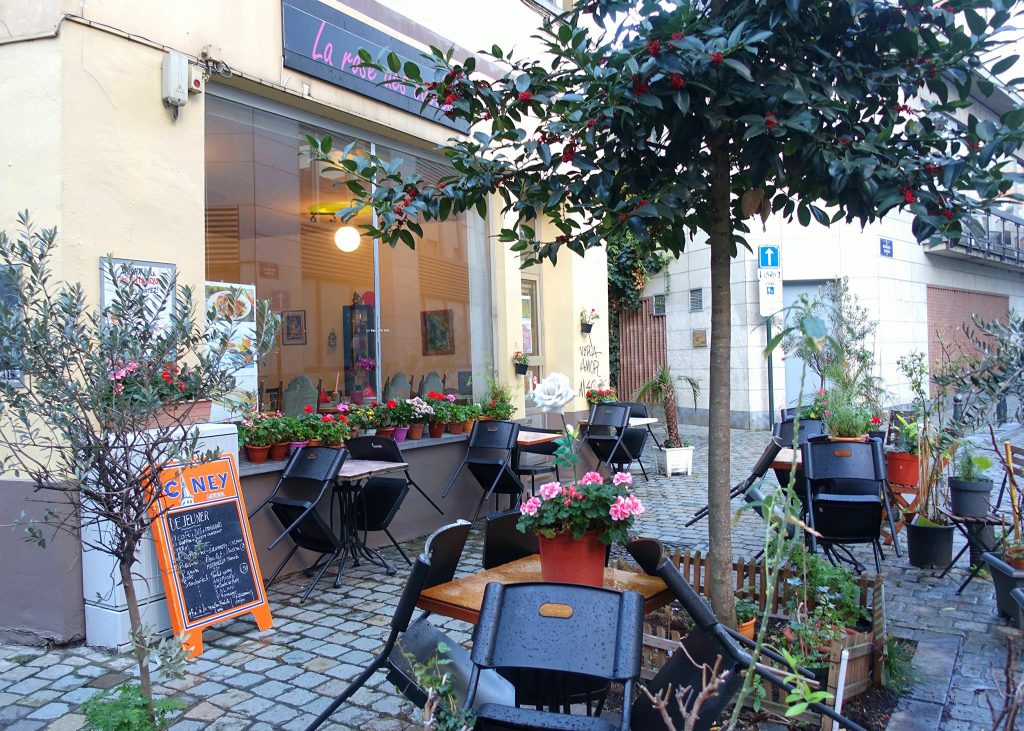 Visiting smaller markets like the one at Place Jourdan during weekends is also a great opportunity to meet locals!
Are you still looking for a hotel? Based on my recommendation on where to stay in Brussels, the market will be directly in front of your hotel's door on a Sunday!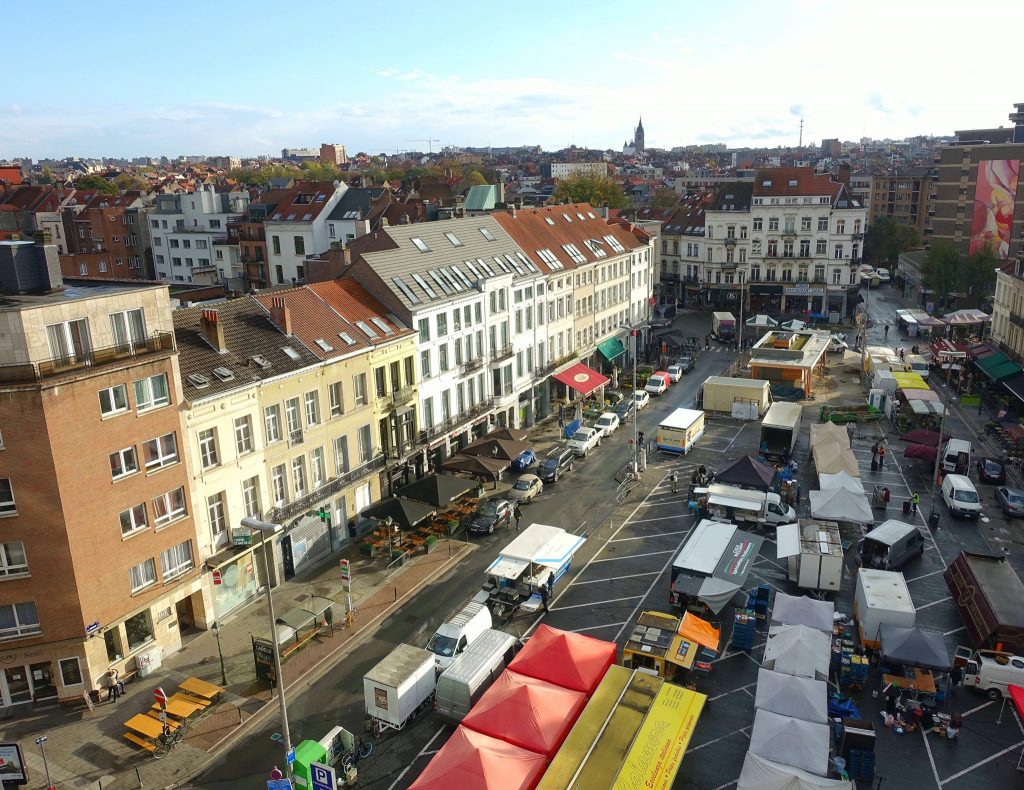 How to organize sightseeing in two days
Of course you also don't want to miss Brussel's most famous sights:
Grand Place
Town Hall of Brussels
Galerie de la Reine
street art
Manneken Pis
Atomium
Royal Palace
Palais de Justice
When starting from Place du Grand Sablon, you can walk to Grand Place and explore beautiful little streets on your way there. Once you have arrived at the infamous Grand Place, you will be impressed with the beautiful architecture.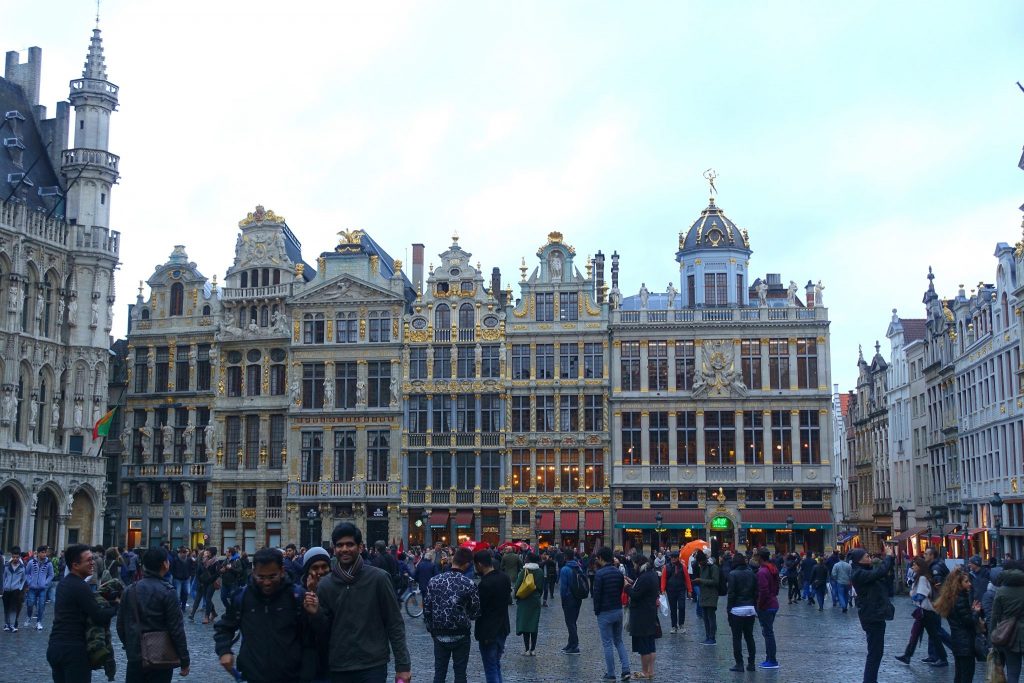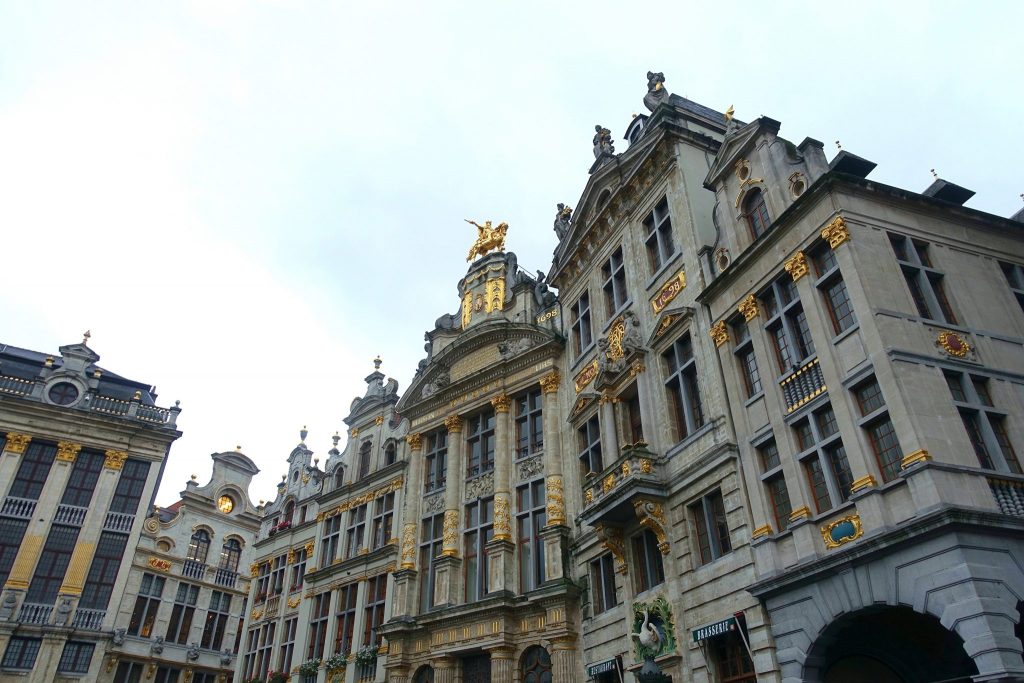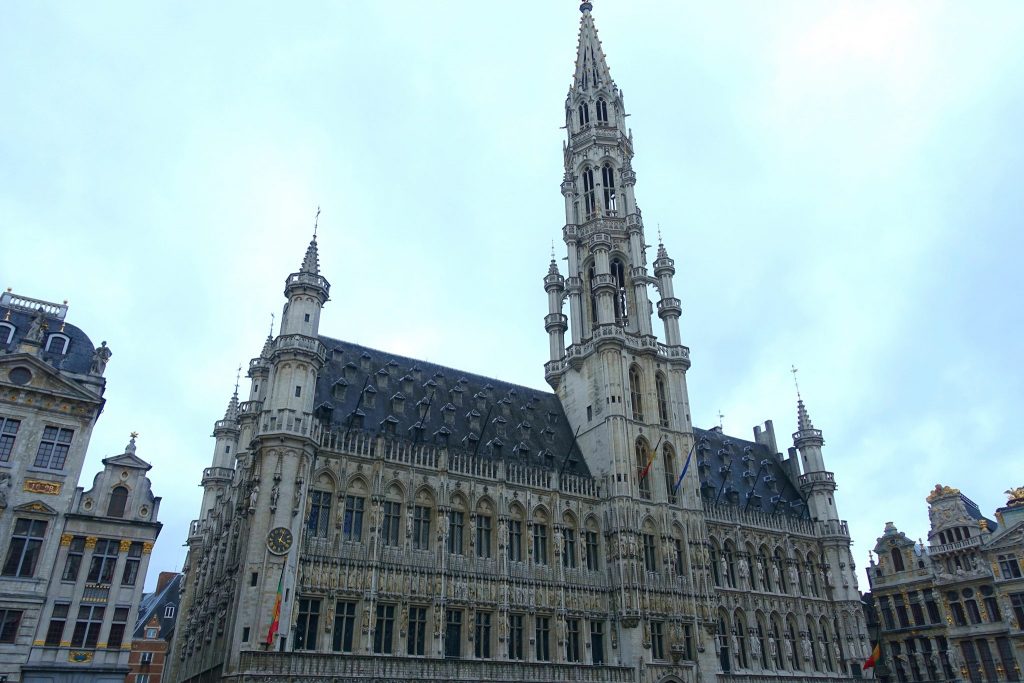 Especially the Town Hall of Brussels is really breathtaking with its big tower!
You can also buy your souvenirs at Grand Place and enjoy some typical to-go food like waffles or fries.
If you want to experience something really special, I recommend visiting Theatre Royal de Toone. It's a traditional Brussels puppet theatre with great plays of Belgium's history.
Toone is also great for a more quiet stop to have a traditional Belgian beer. If you're visiting in summer, make sure to stop in the beautiful beer garden outside.
Another stunning place not far from Grand Place is the Galerie de la Reine with lots of luxury shops.
However, you will also find traditional shops of clockmakers and chocolate. The Vaudevill Theater is also located there and will give you the opportunity to learn more about Belgium's history.
After exploring Grand Place, Theatre Royal de Toone and Galerie de la Reine, head on to see Manneken Pis.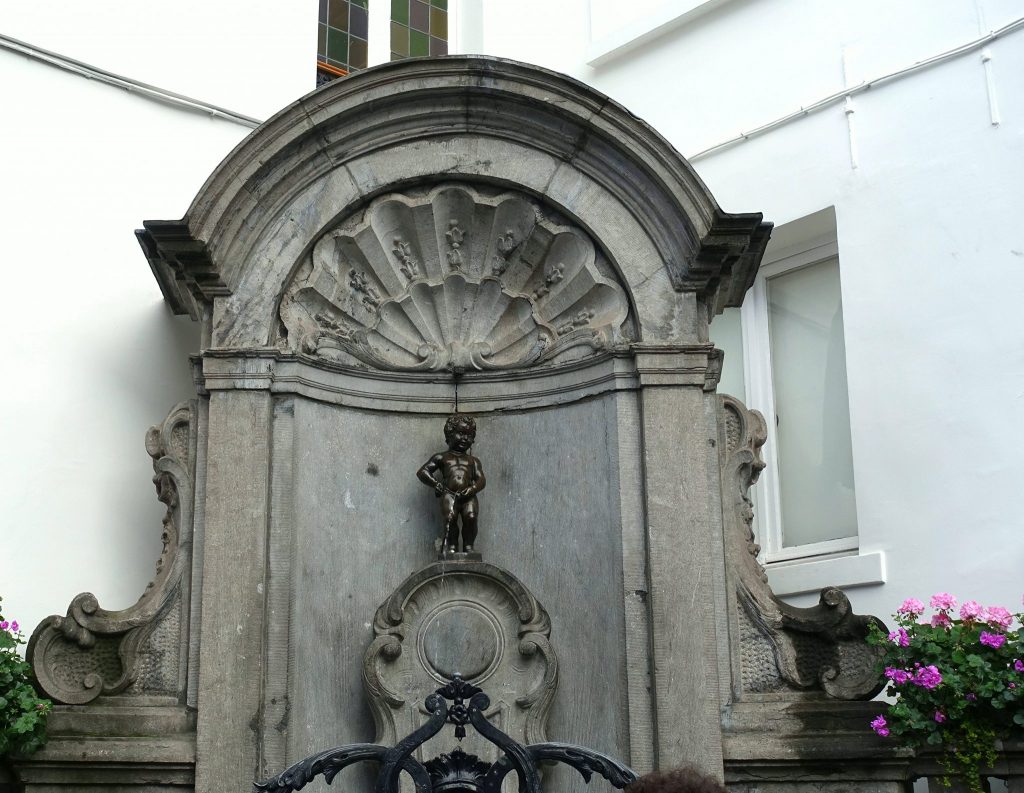 Don't be surprised, it's a rather small statue but the little man is often dressed in traditional Belgian clothing!
In this area you will also be able to find lots of local street art.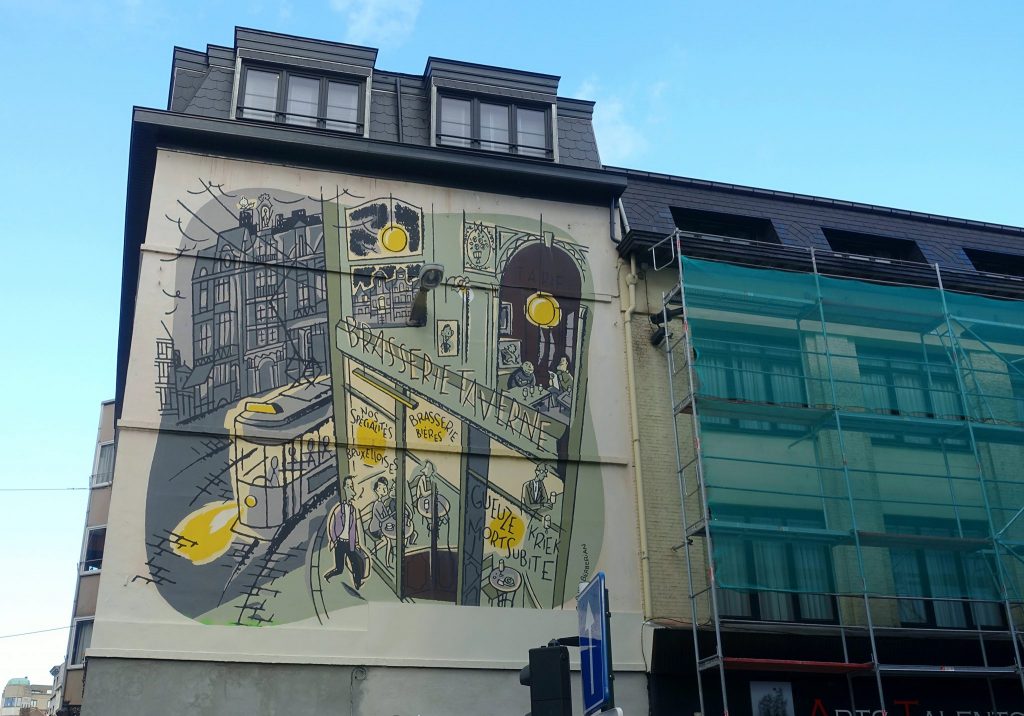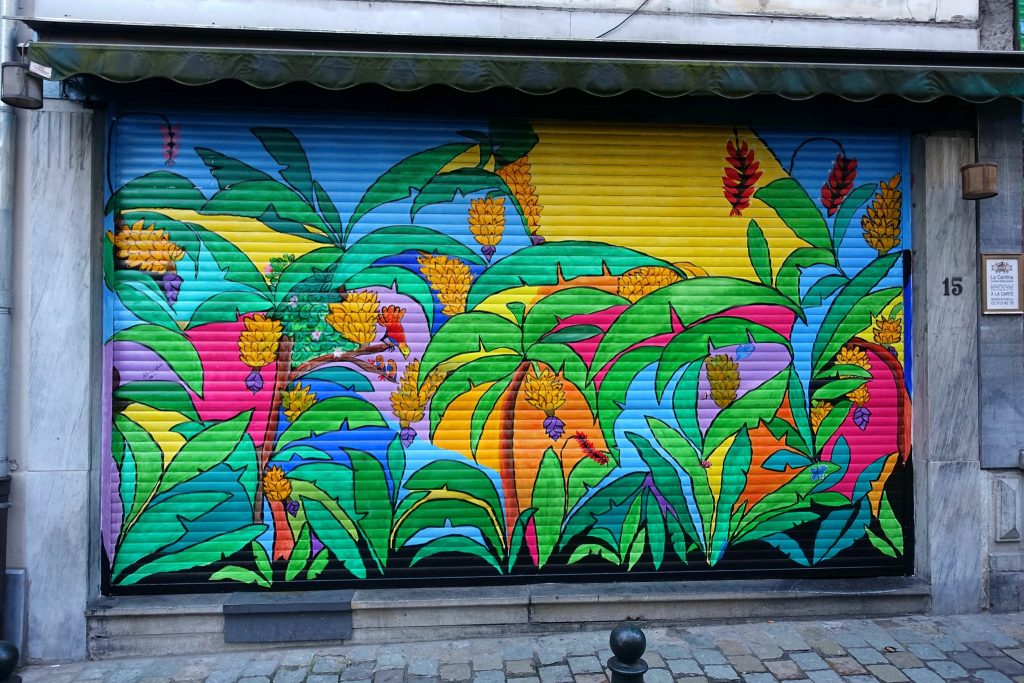 Street art is another aspect that makes Brussels so unique! You will find lots of motives like the typical Tram of Brussels (see above) or famous figure like Tintin and his little dog Snowy.
Don't miss out on this great part of Brussels culture!
If you're staying in Brussels for two days you will already be busy for the afternoon to explore the areas from Place du Grand Sablon to the Manneken Pis area.
In case you want to see the infamous Atomium, I highly recommend renting a car. Taking the metro (next station: Heysel) takes quite long and you will waste too much time during your two days in Brussels.
If you decide to go there, you will see André Waterkeyn's design for the World Expo in Brussels in 1958: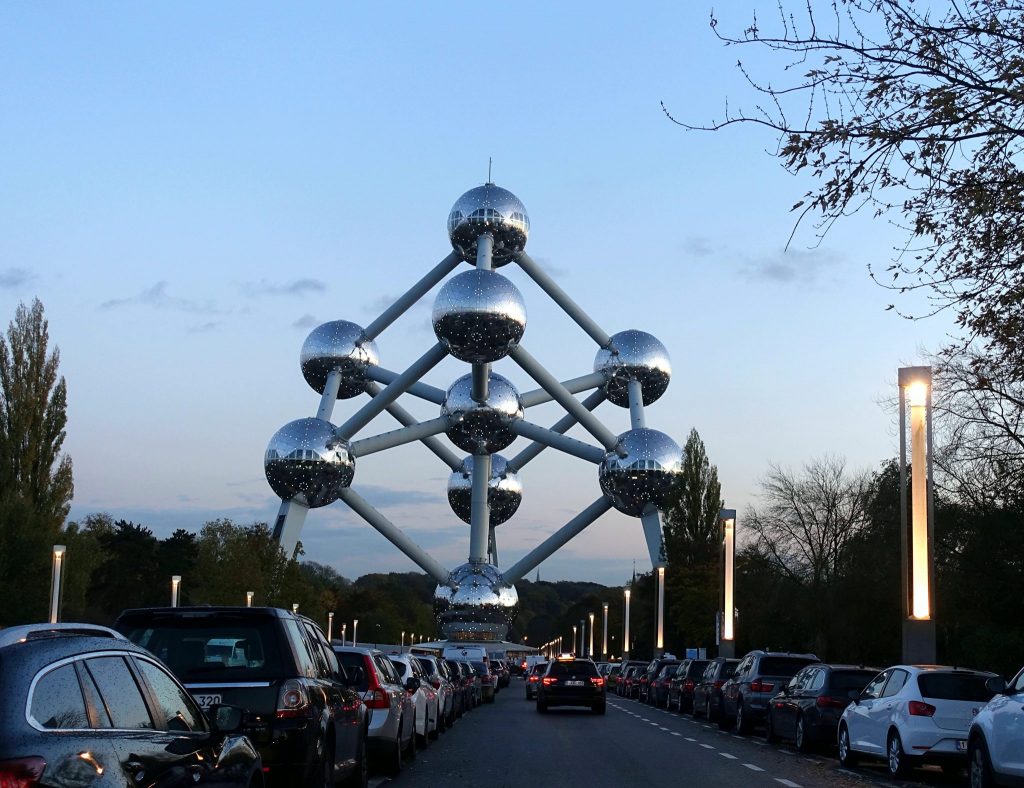 Renting a car, it will also be easier for you to pass by Palais Royal and Palais de Justice either before or after the rest of the sightseeing tour above.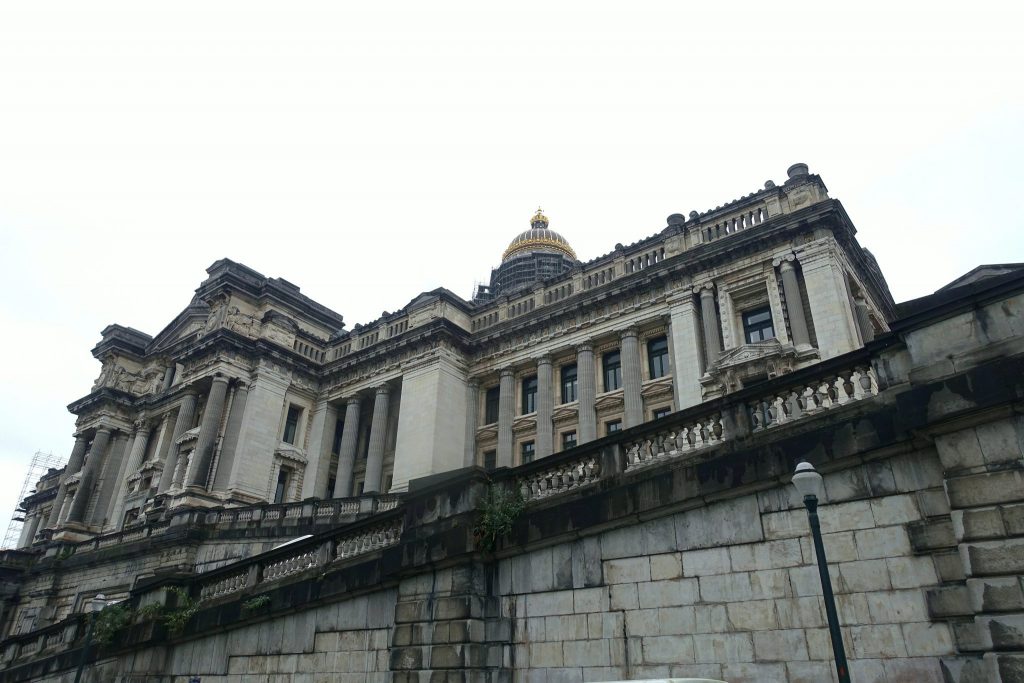 In case you prefer to go shopping, go from Grand Place to Avenue Louise where you will find lots of luxury shops and boutiques. Nearby you will also find the area of Ixelles with lots of hip bars and cafés.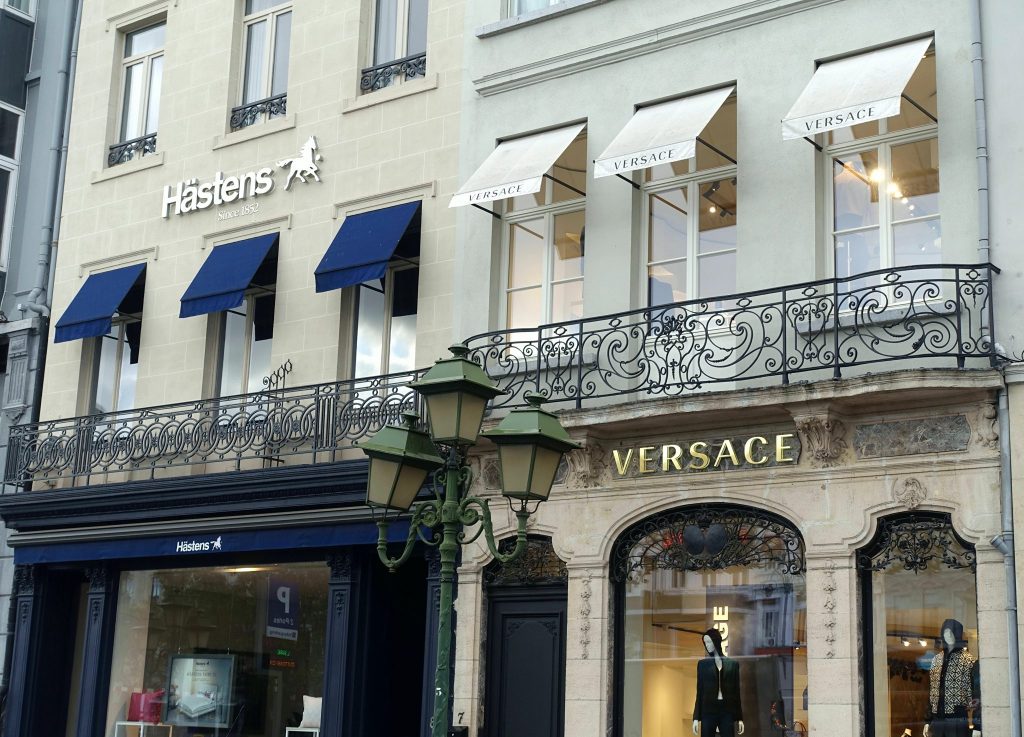 Food in Brussels – Tips and addresses
Of course all this sightseeing is going to make you hungry. And you wouldn't want to miss out on the amazing food during your two days in Brussels – so feel free to follow my recommendations!
Belgium is famous for many specialties. Whether it's the fries, the beer or the chocolate – it's all incredibly delicious.
So where are you going to find the best of it all? Here's a first overview:
fries – Maison Antoine (Place Jourdan)
chocolate & macarons – Godiva, Pierre Marcolini (Place du Grand Sablon or Grand Place)
beers – Delirium Bar (near Grand Place)
special occasions: La Villa Emily (Rue de L'Abbaye)
Let's start with the fries – Remember the local market at Place Jourdan near my hotel recommendation for Brussels?
That's where you will also find Brussels's best fries at Maison Antoine! Of course the fries are also going to be amazing in other places as well!
Just to let you know, Belgian people hate that the fries are called French Fries because they claim the invention – so just order "fries", not "French fries" 😉 !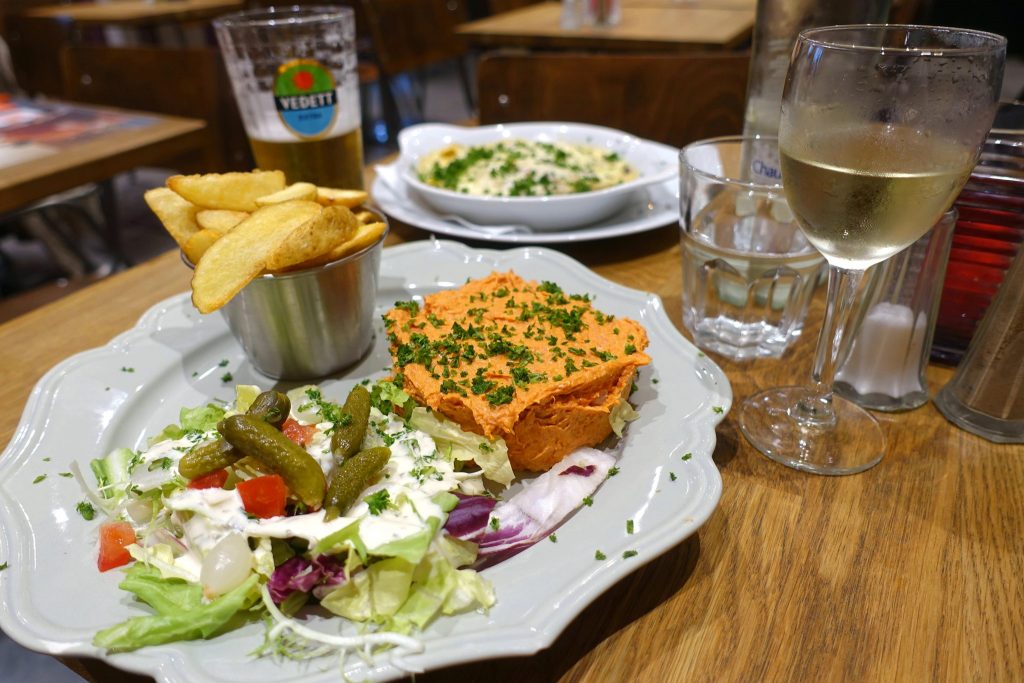 Not only the fries are great, but also the tartar or the mussels – mussels season is from September – December.
In case you want to satisfy your sweet tooth right in the beginning of your sightseeing tour – There is a great choice of Belgian chocolate at Place du Grand Sablon!
One of my personal favorites are the Godiva strawberries and all the chocolate and macarons by Pierre Marcolini – absolutely delicious!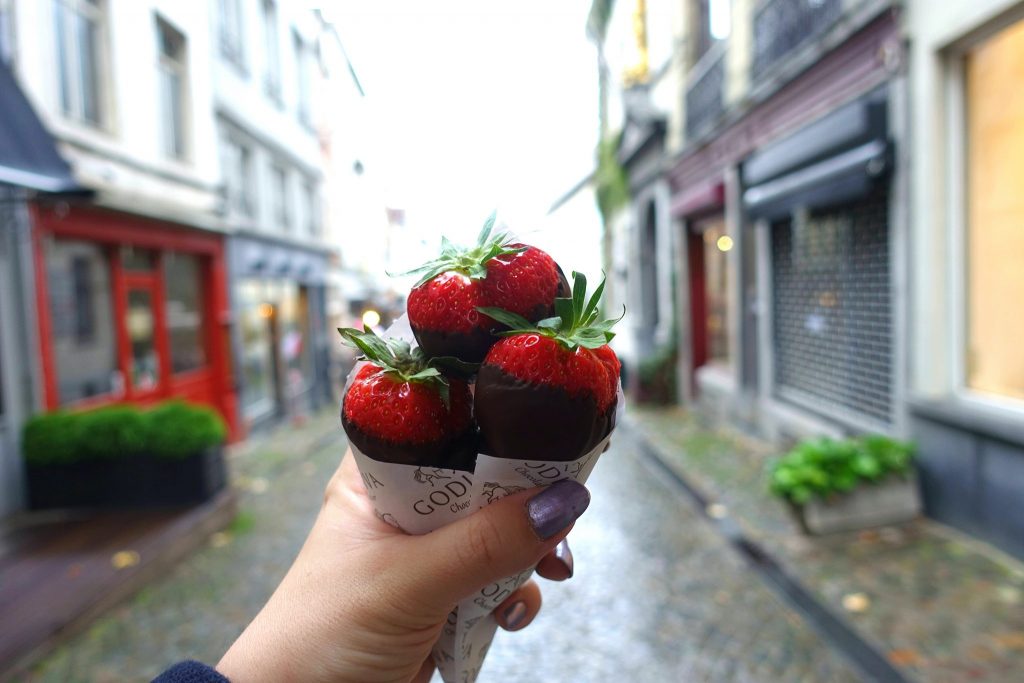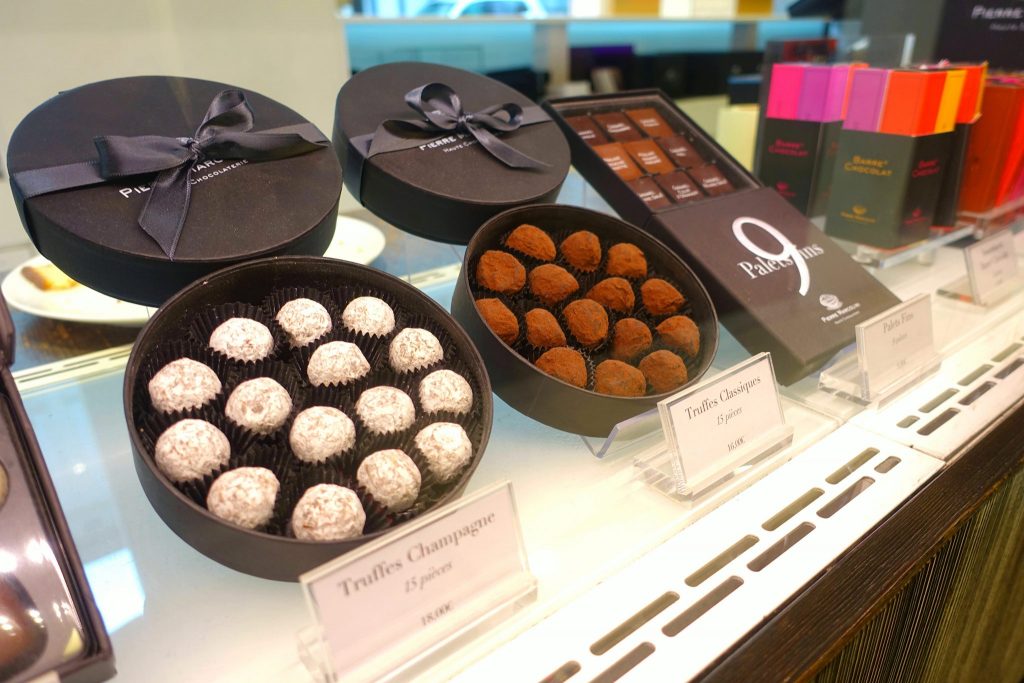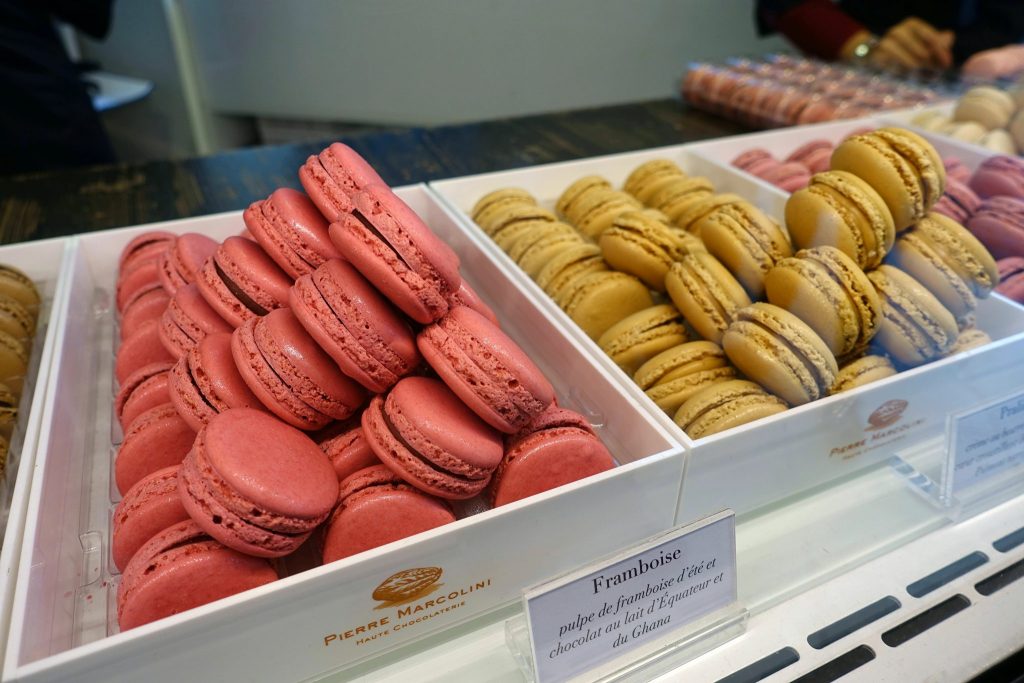 If you need a drink after the fries and sweets, it's time for a Belgian beer!
A great place you definitely need to check out is Delirium Bar. It's not far from Grand Place so stop by if you're thirsty during your sightseeing tour – you can taste more than 1000 Belgian beers!
In addition to that, the atmosphere is amazing and even locals go there!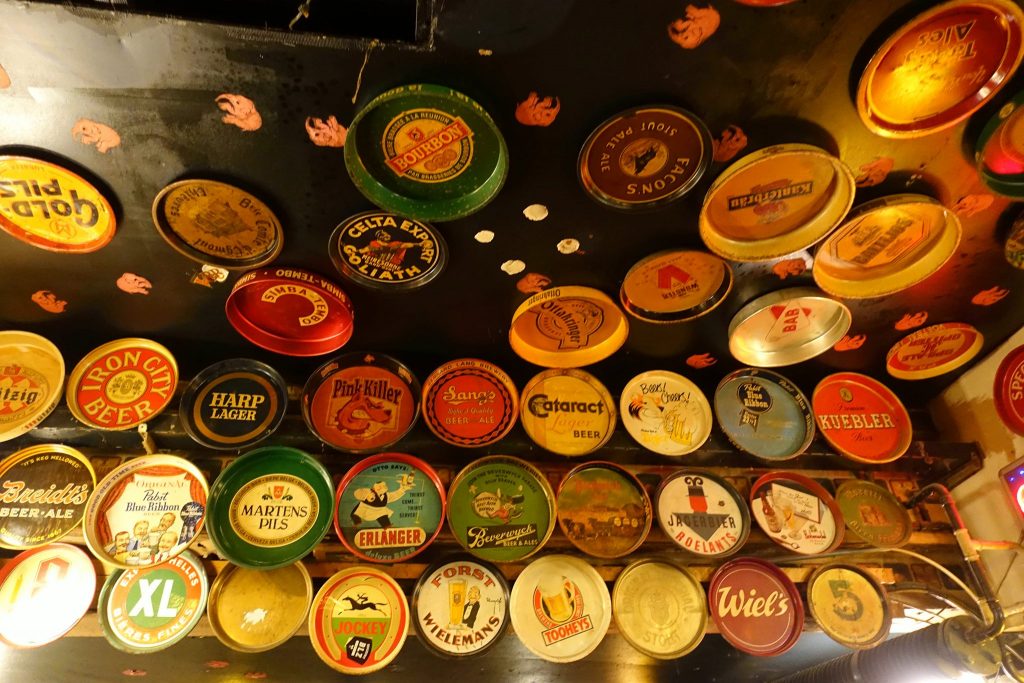 If you want to wait until you have seen Manneken Pis – Visit Café Charbon which is not far. They also have a great selection of beers, wines and good food!
Furthermore their interior design is amazing!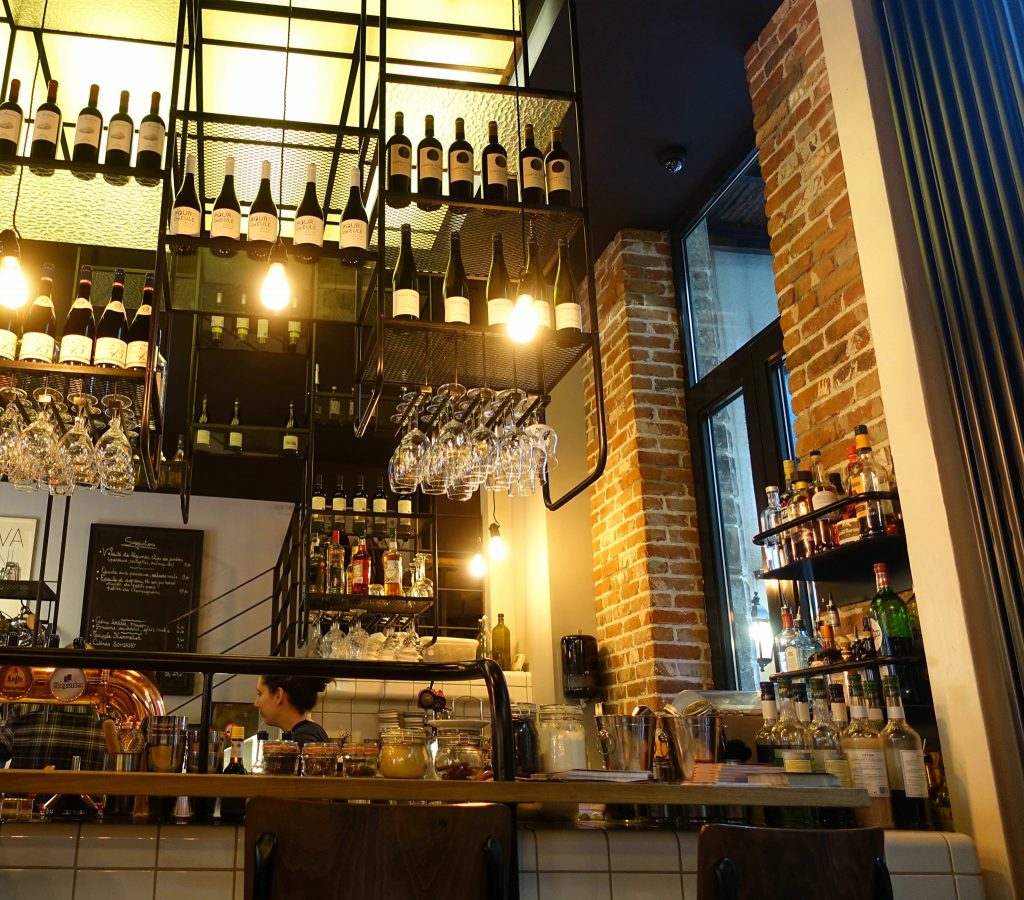 Are you looking for something more fancy during your two days in Brussels? A great way of spending an amazing evening is to have dinner at La Villa Emily!
Not only will you love the elegant design, you will also be fascinated with the great cuisine! For your dinner you can choose between 3, 4 or 5 courses – and they are all absolutely fabulous!
Accompanied by a great selection of fine wines and champagne, this is the perfect location for celebrating a special occasion like a birthday, anniversary etc.!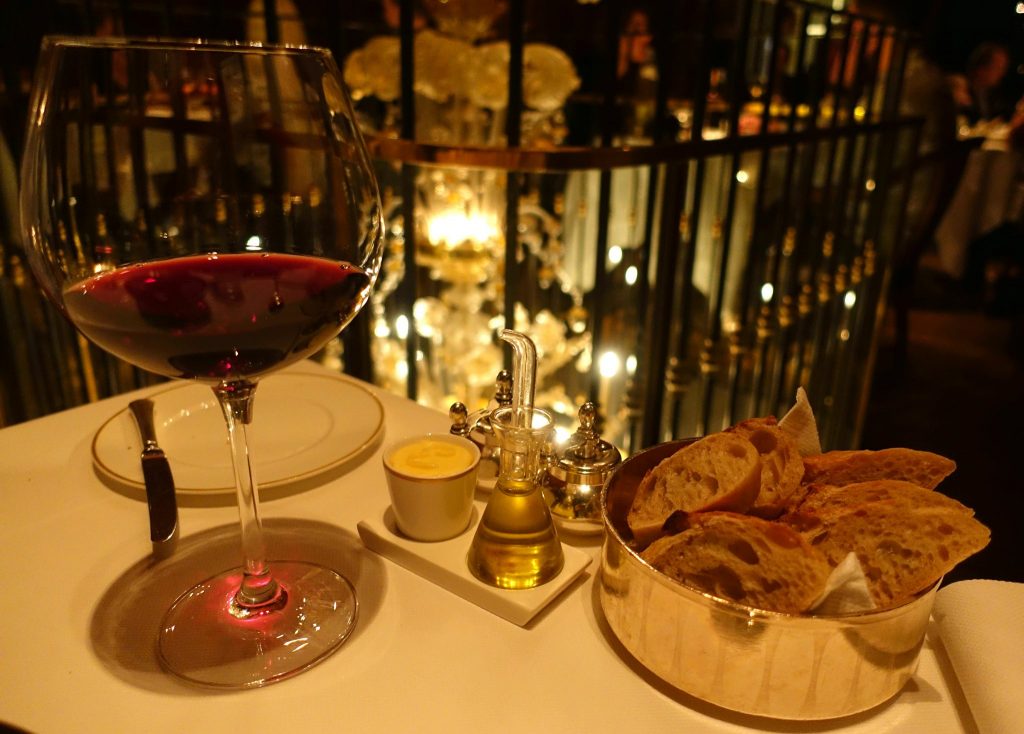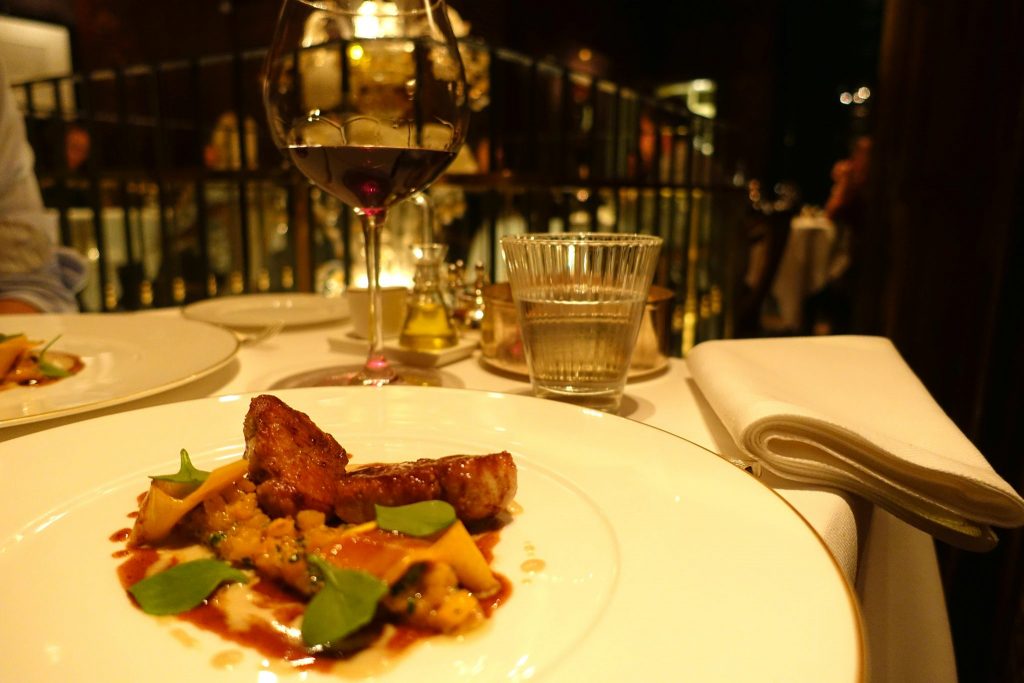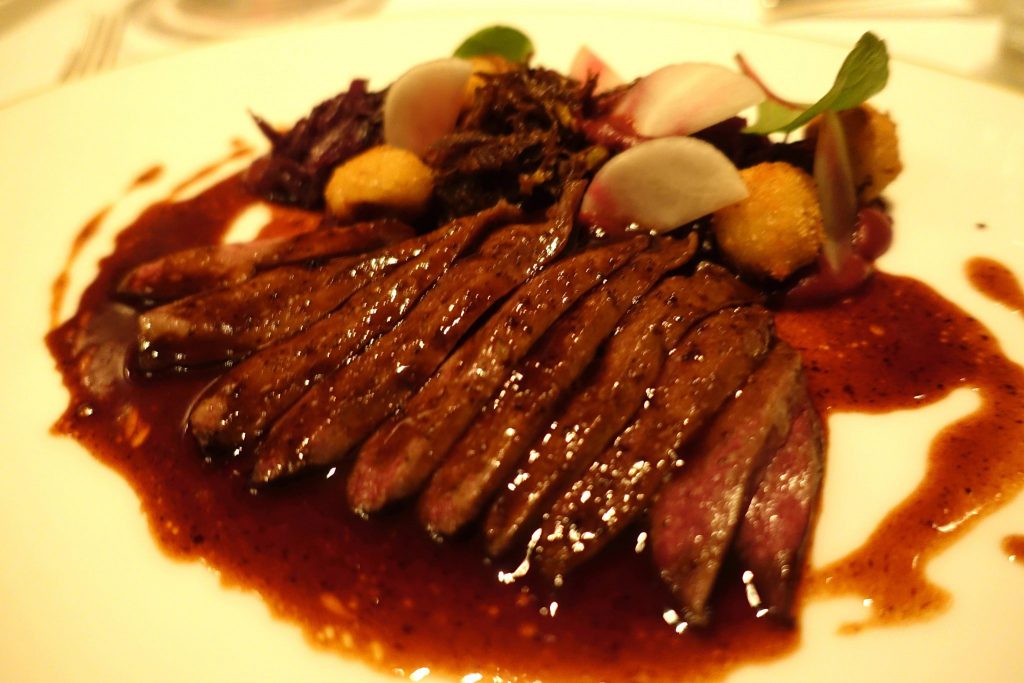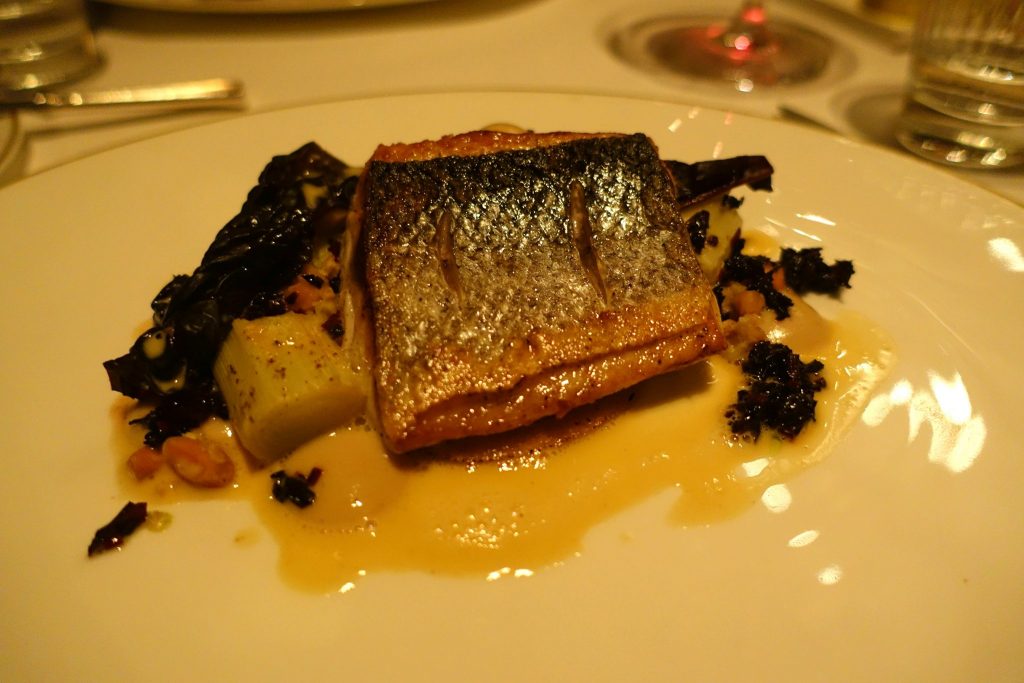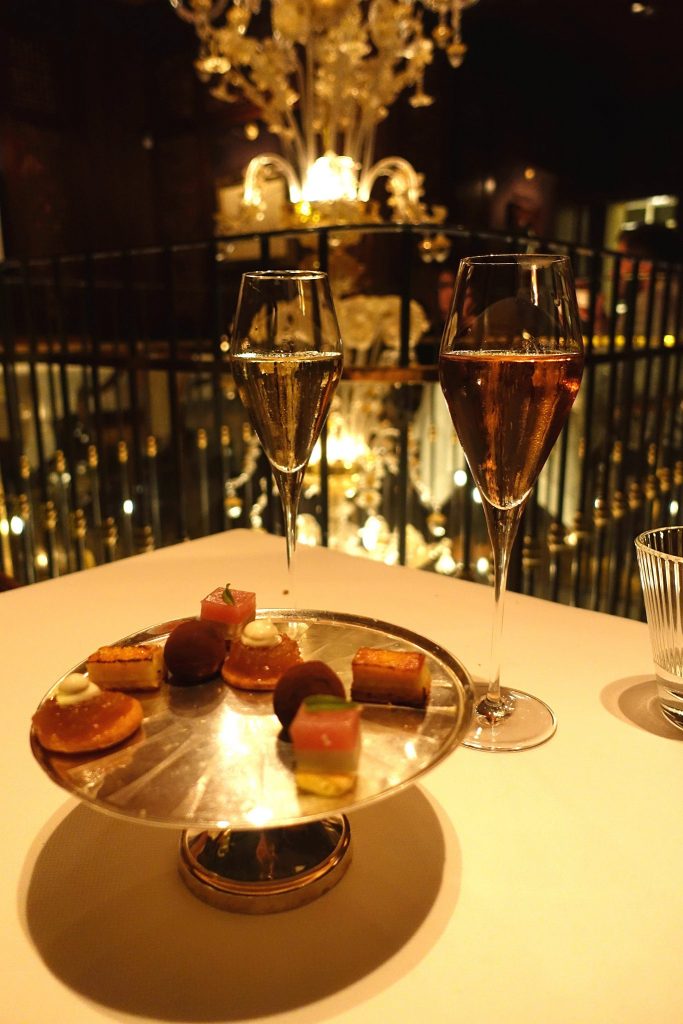 Enjoy feasting on all the amazing food during your two days in Brussels!
It's a fantastic reason to visit this beautiful city and I'll probably never get enough of it!
Enjoying some relaxing time in the city
After an eventful first day of sightseeing and lots of eating, you might want some relaxing time on your second day.
Brussels is a city with many beautiful parks – especially in summer it's a great way of relaxing and enjoying a great picnic or barbecue. Visiting a park could also be another great opportunity to meet locals!
Here's a selection of our favorite parks in Brussels:
Leopold Park (see below, located next to my hotel recommendation)
Jardin du Petit Sablon (a lovely garden not far from Royal Palace)
Boise de la Cambre (with a beautiful lake to take some boat trips)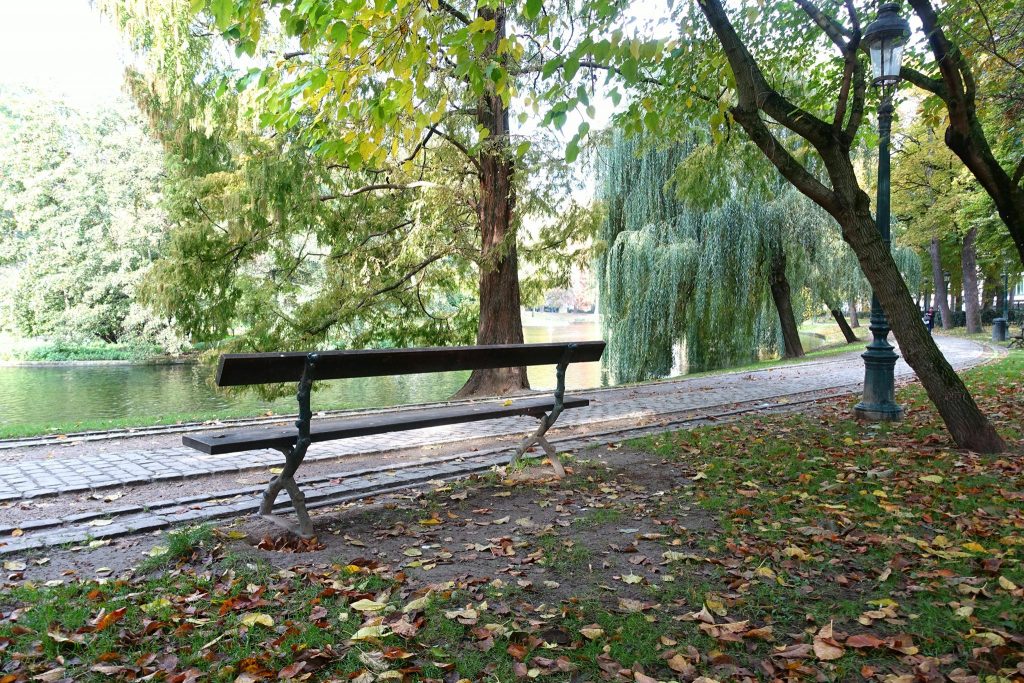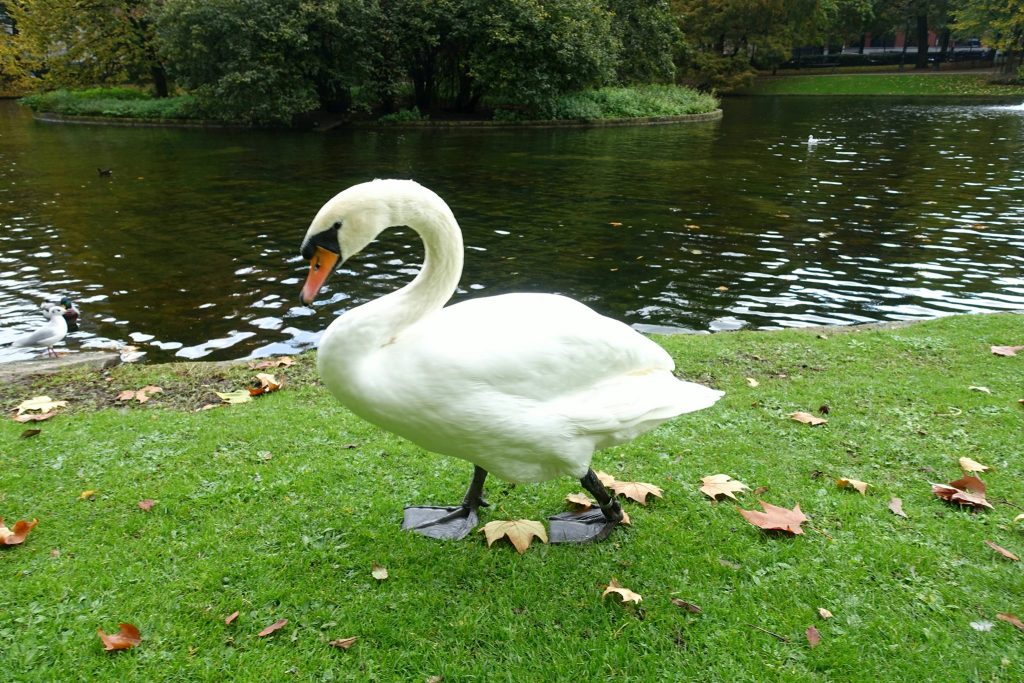 So all in all, Brussels is an amazing city to visit for a weekend trip! You will definitely enjoy the friendly atmosphere, the beautiful locations and the delicious food. Feel free to contact me for any specific questions, I'll be happy to assist you with your planning :)!
Have you ever visited Brussels before? Feel free to share your experiences in the comments below.