Hi travellovers and friends, as you might have seen on my Instagram @karoadores, I have recently been to Amsterdam with one of my good friends for a ladies' trip. We have had a great time staying at Banks Mansion Hotel so I want to share this experience with you (*Ad/Anzeige).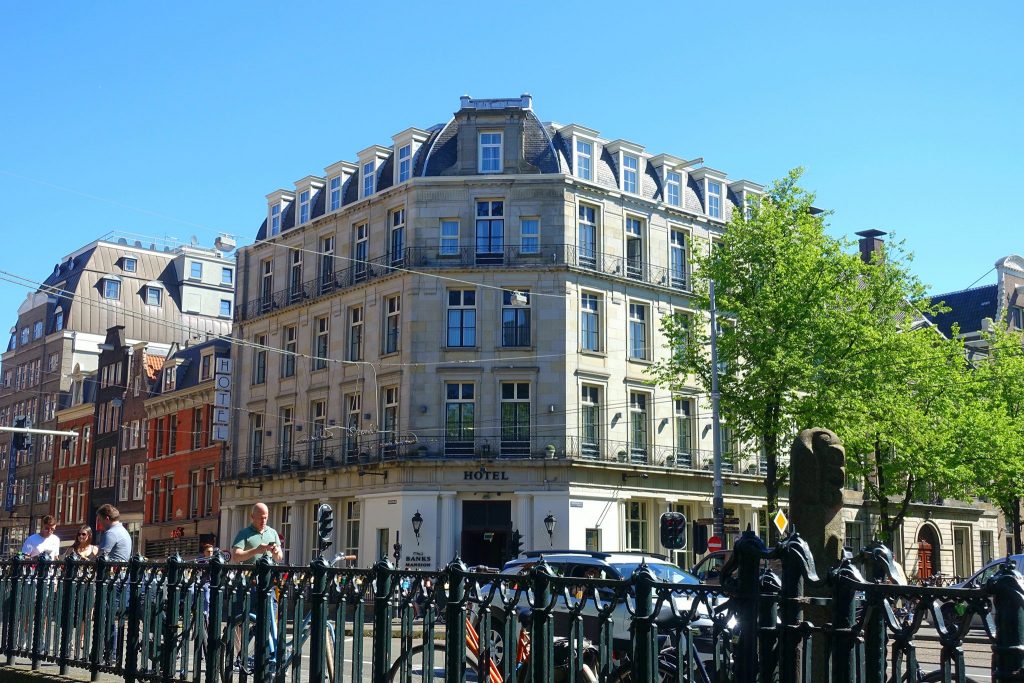 Let me first share some basic information about Banks Mansion Hotel:
classification: 4 stars, the boutique hotel belongs to Carlton Hotel Collection
location: Herengracht Amsterdam, within the infamous canal ring
rooms: 5 different room types & suites to choose from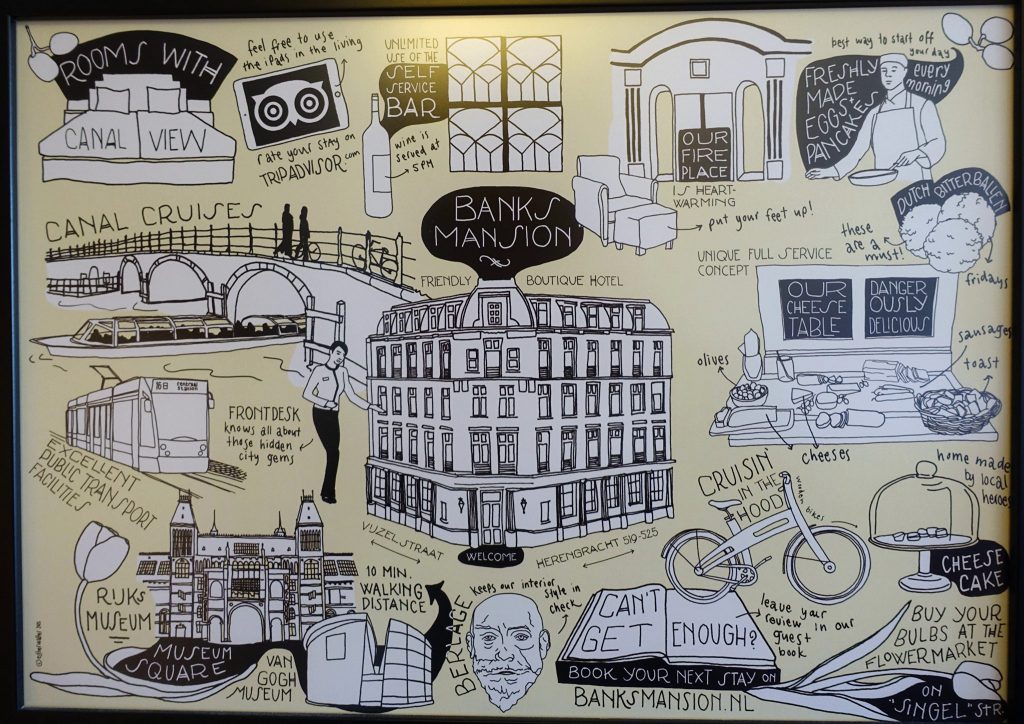 Checking into Banks Mansion Hotel Amsterdam
Upon our arrival on a sunny Sunday evening, we checked into our beautiful hotel, very excited to see our Deluxe Canal View room. We were quite exhausted from our flight (usually not that long, but there were some complications).
For that reason, it was amazing to arrive at the beautiful lobby that looks more like a living room than a traditional hotel lobby.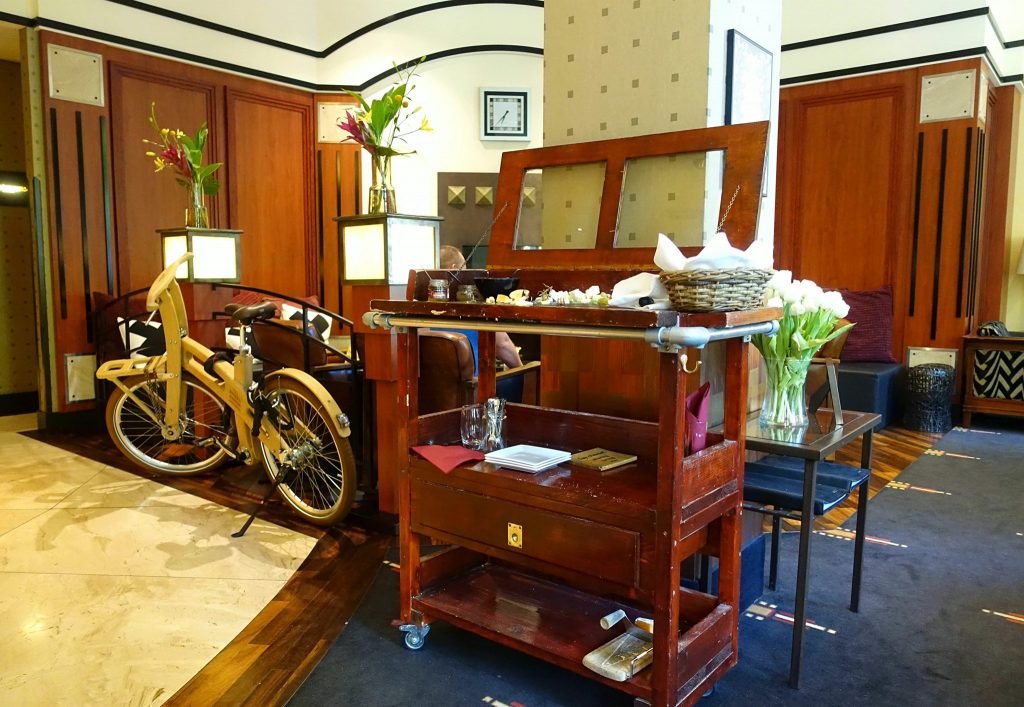 The staff at the front desk was so friendly and helpful, we were greeted warmly and provided with helpful information on how to find our way around. My first impression was that Banks Mansion Hotel really seems like a home away from home and that's what I'm always looking for when I travel.
We first sat down in the living room, enjoying some complimentary snacks and drinks from the open bar. That was one of the main reasons why we wanted to stay at Banks Mansion – their full-service concept.
Not only do you get to enjoy the delicious French and Dutch cheese from their daily cheese trolley but you can also choose all-inclusive drinks from the open bar whenever you want!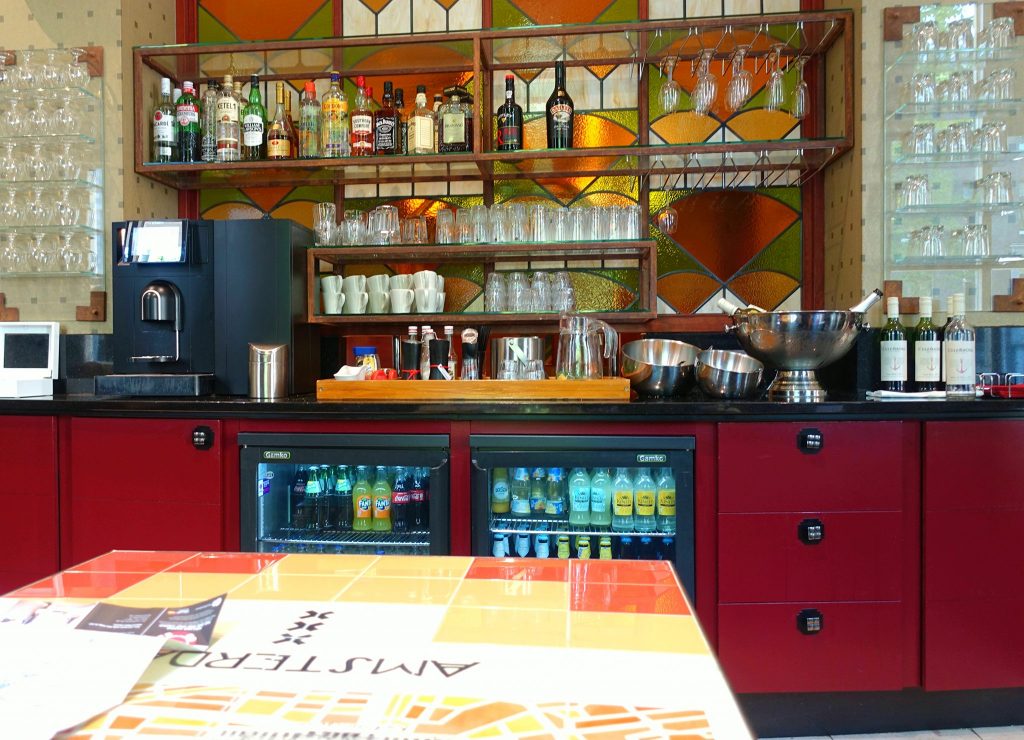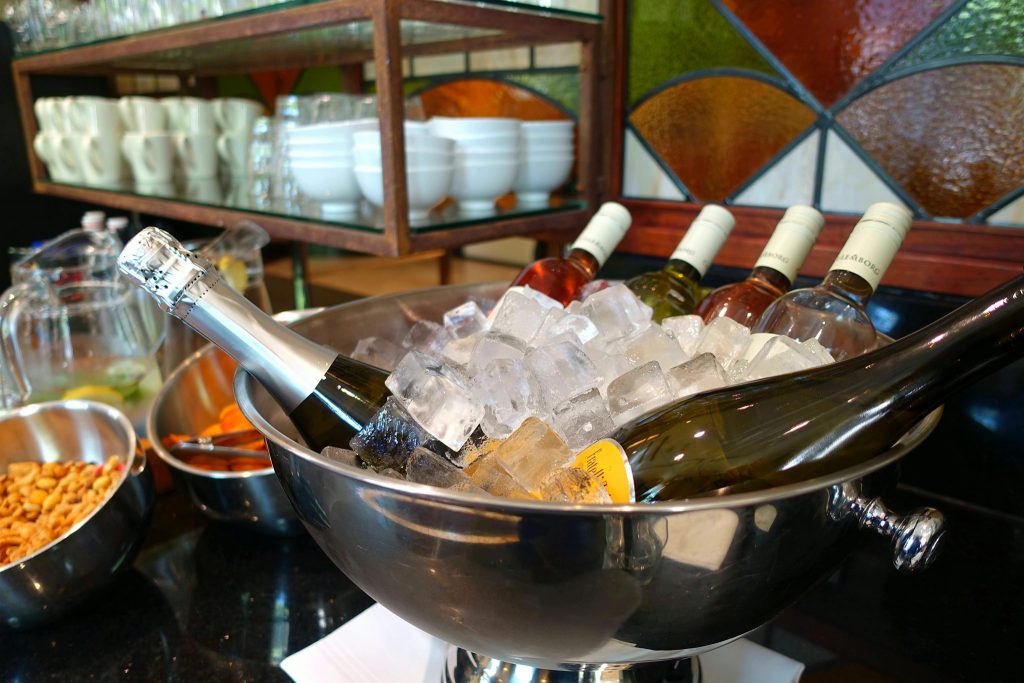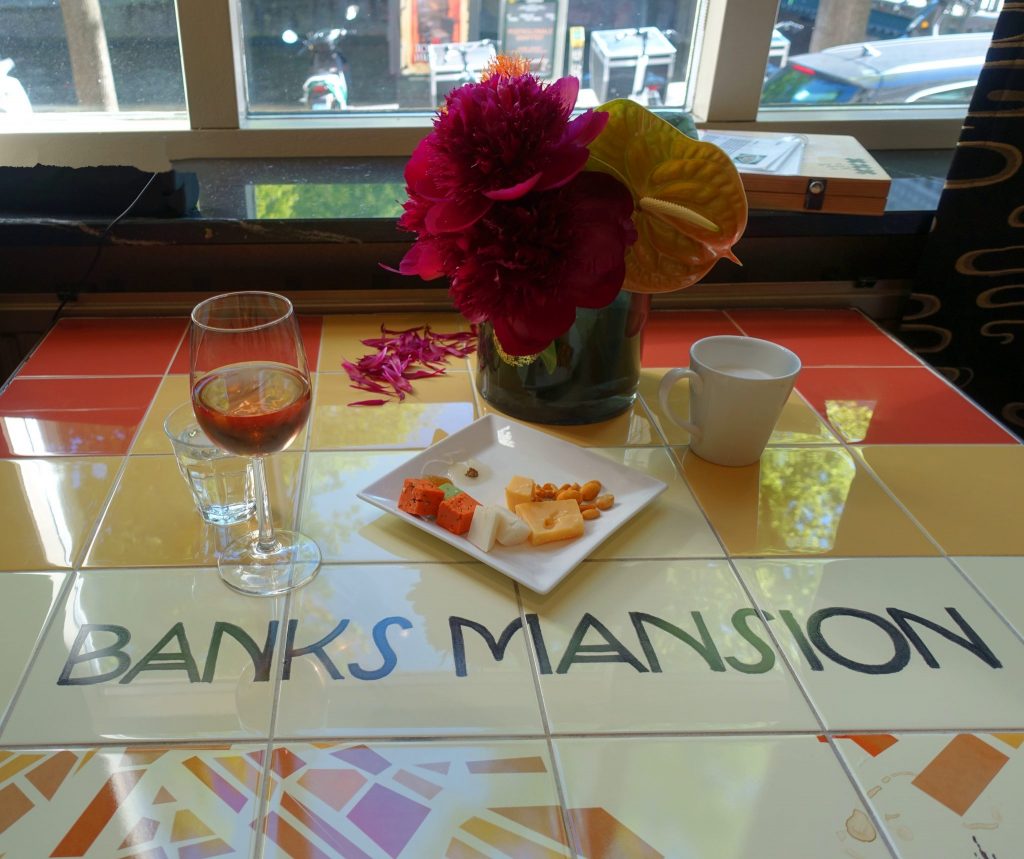 So this amazing refreshment was more than welcome after our long travel. We then went upstairs to check into our beautiful room.
Our Deluxe Canal View room
We chose the Deluxe Canal view room so we could enjoy waking up to Amsterdam's beautiful canals every morning and really get the full experience of staying in this amazing location. The room was spacious and comfortable, including free wifi and air conditioning.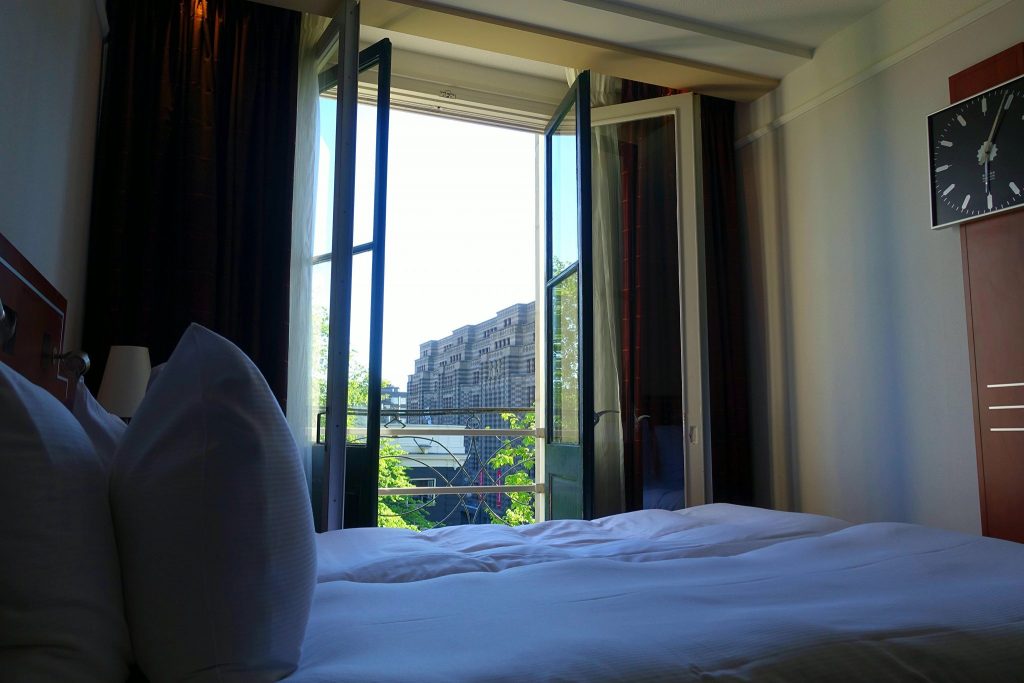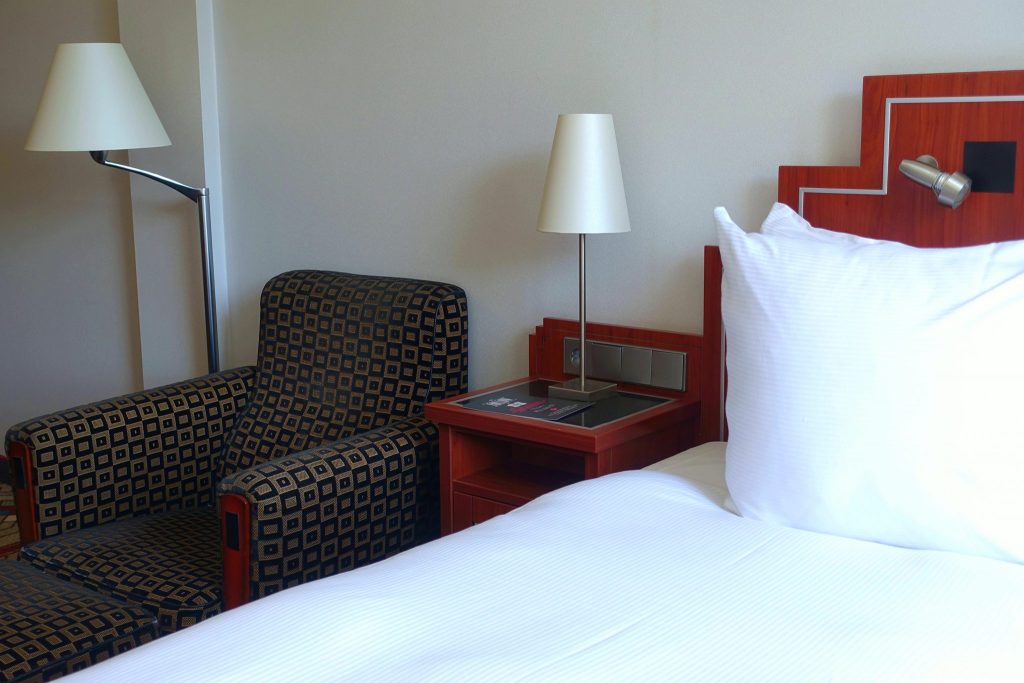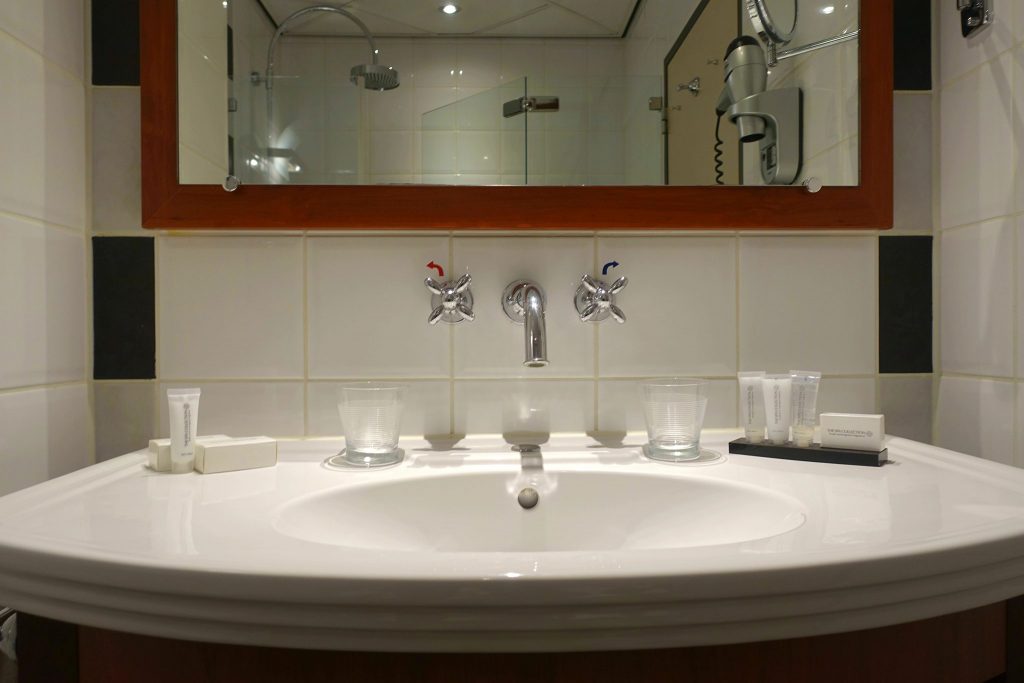 The room includes complimentary full-service-concept as well. That means that not only the mini bar is all-inclusive but you'll also find carafes of whiskey, gin and cognac in your room!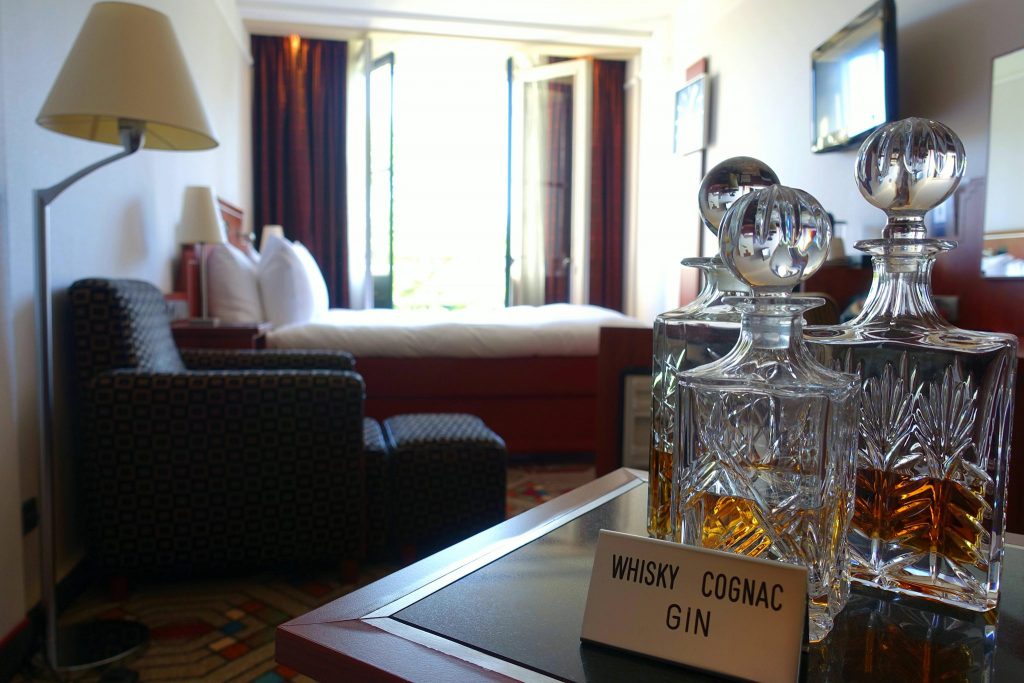 If you're a coffee-lover like me, you'll be delighted to find a Nespresso machine as well for your daily caffeine shot: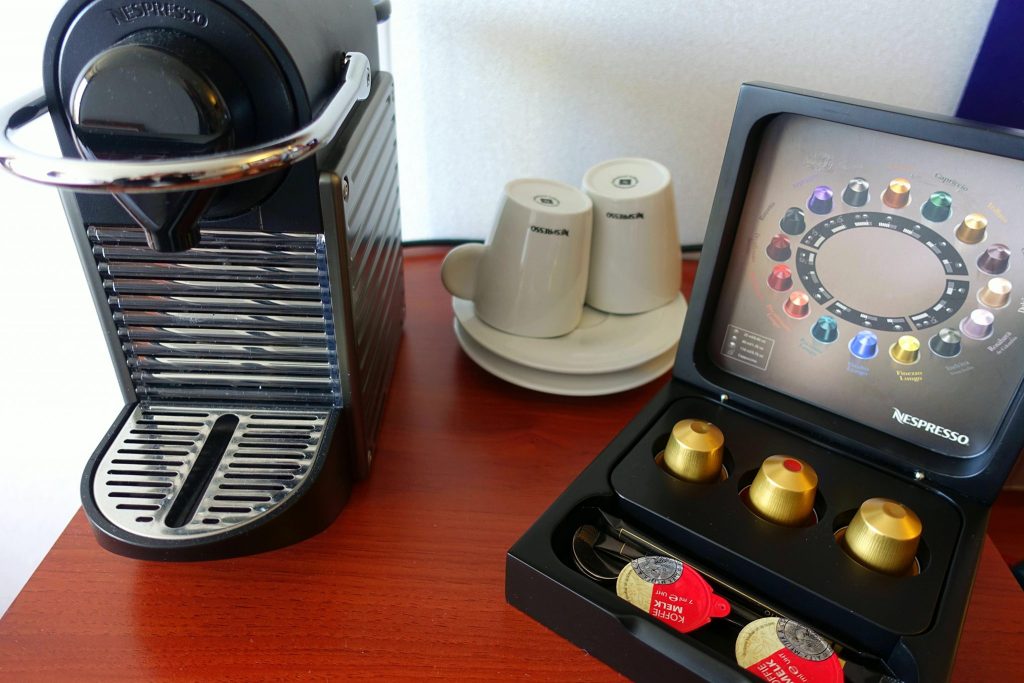 The room was very clean and comfortable, with all the extras you could possibly wish for: bathrobes, slippers, laptop-size safe, rain shower and different pillows to choose from – nothing was missing.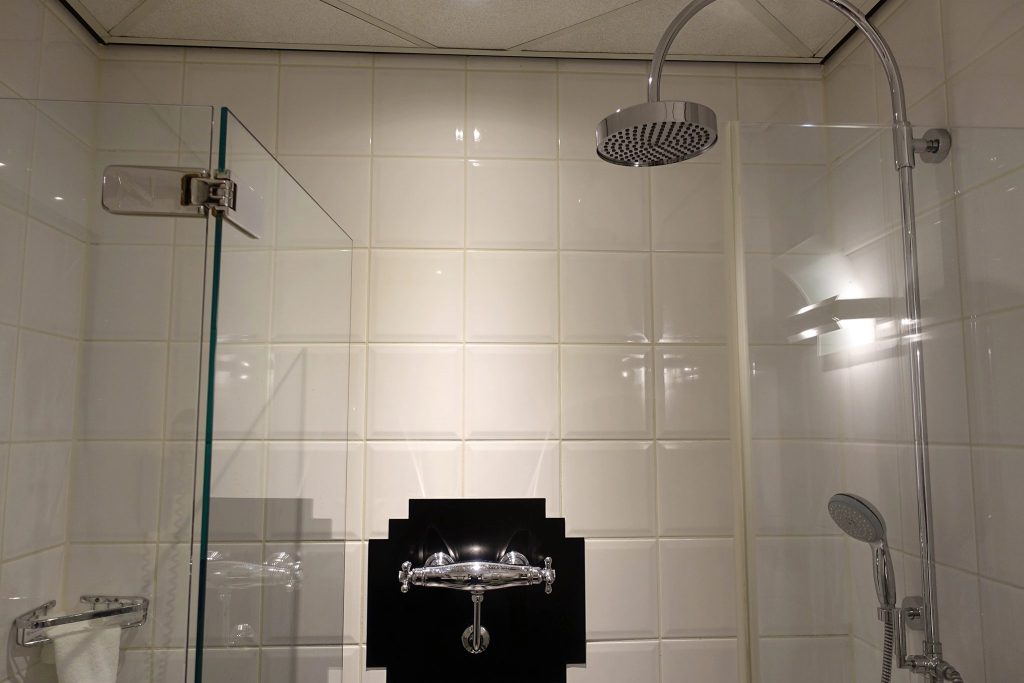 I personally also loved the vintage details: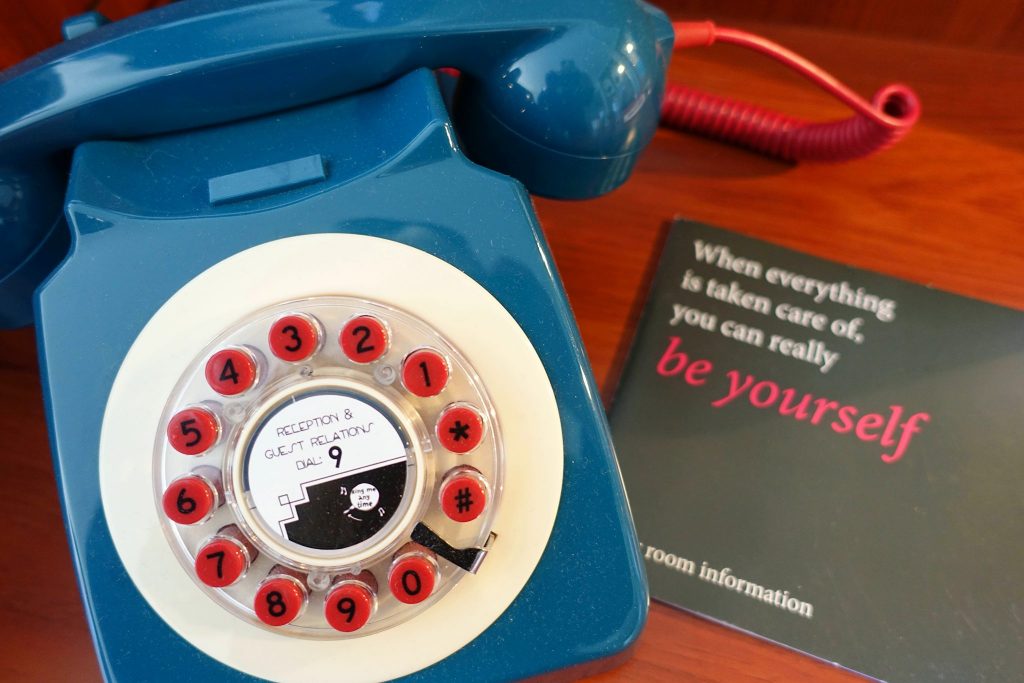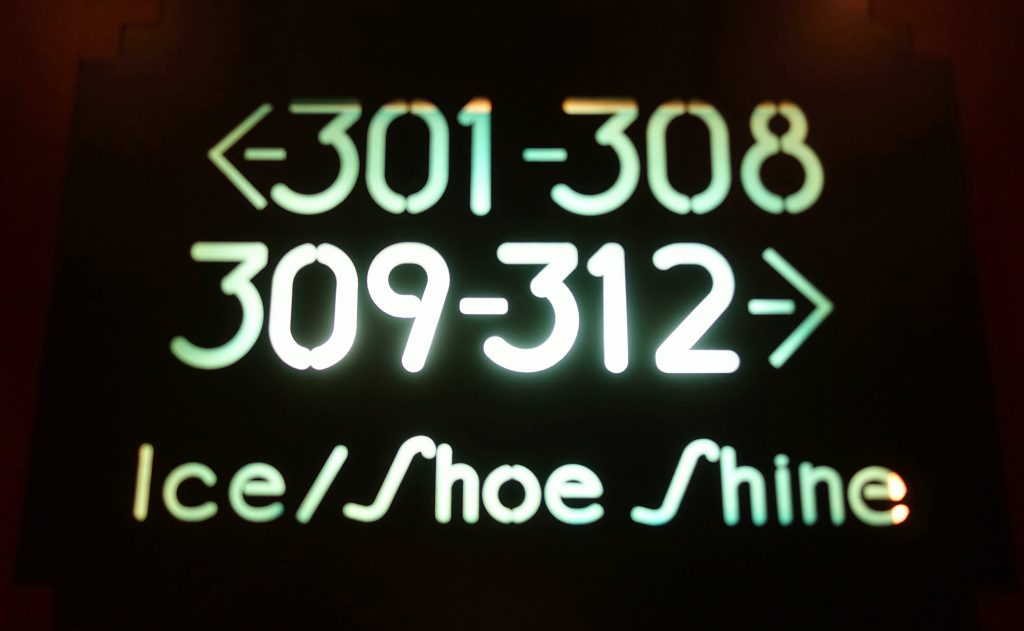 Of course, there was also an ice-machine available directly at the elevator entrance so you can enjoy your fresh drinks. The shoe shine machine was a nice extra touch as well!
Breakfast at Banks Mansion
After getting a good night's sleep, we were very excited for the complimentary breakfast with live-cooking!
There was a big choice of fresh products available and the food was absolutely delicious.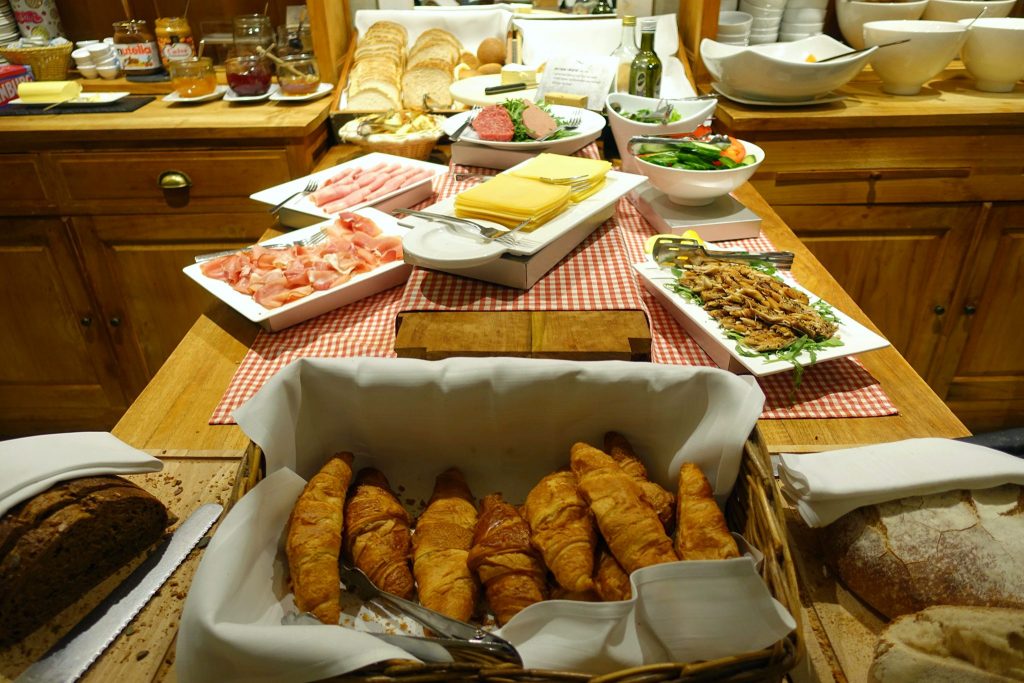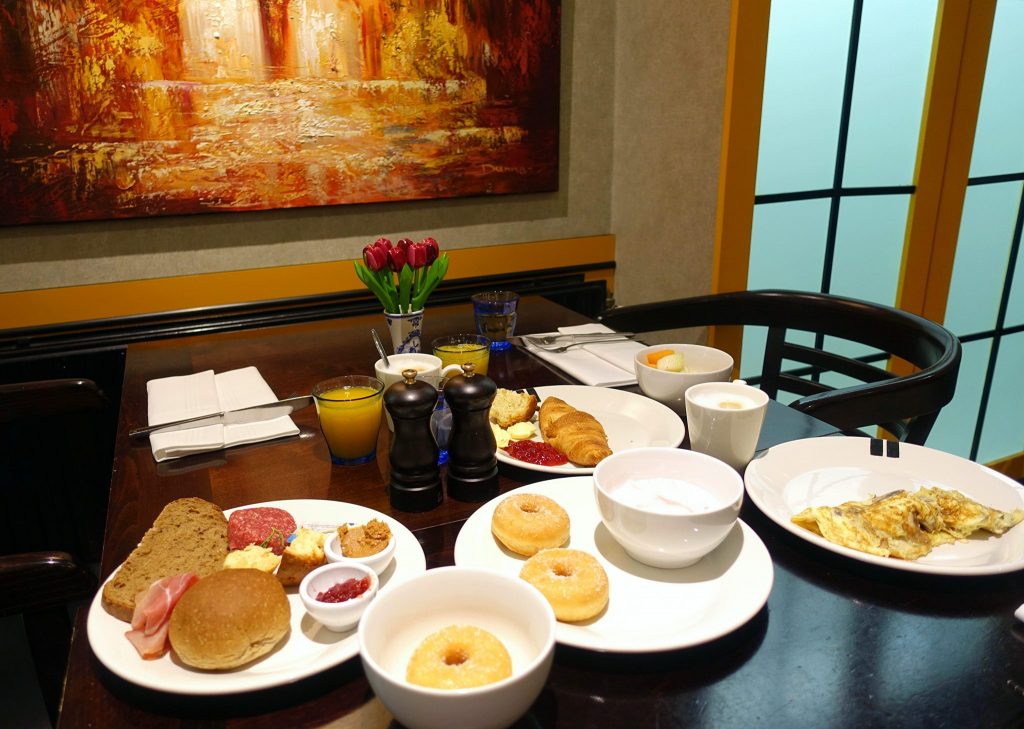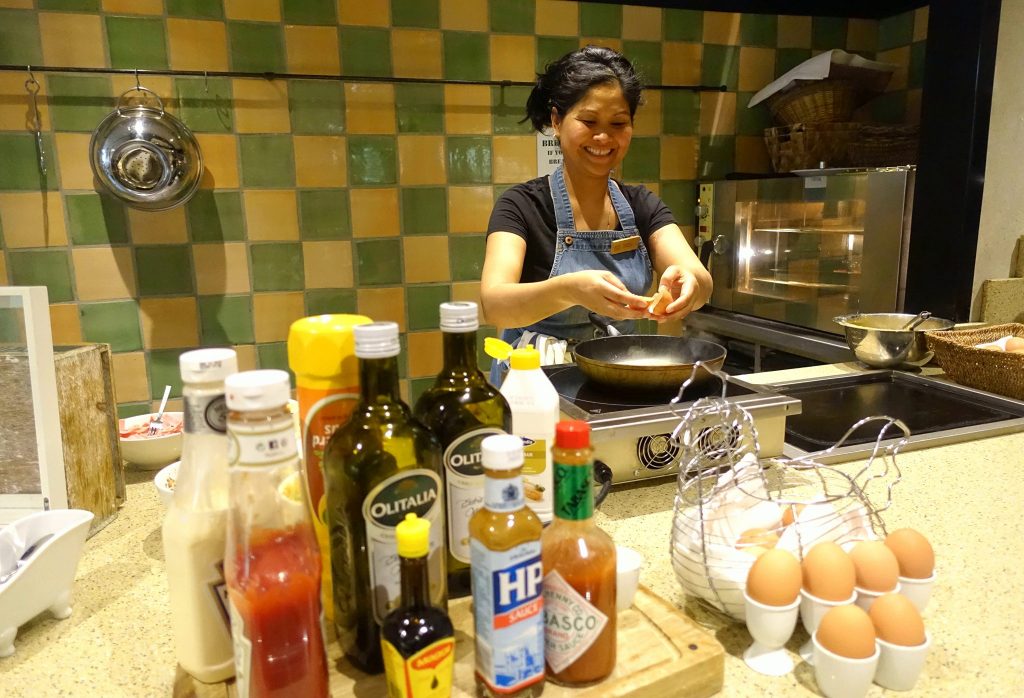 This lovely lady at the live-cooking-station prepared delicious omelettes, egg dishes and pancakes for us!
Of course, if you prefer to stay in bed and eat your breakfast there, that's also an option :).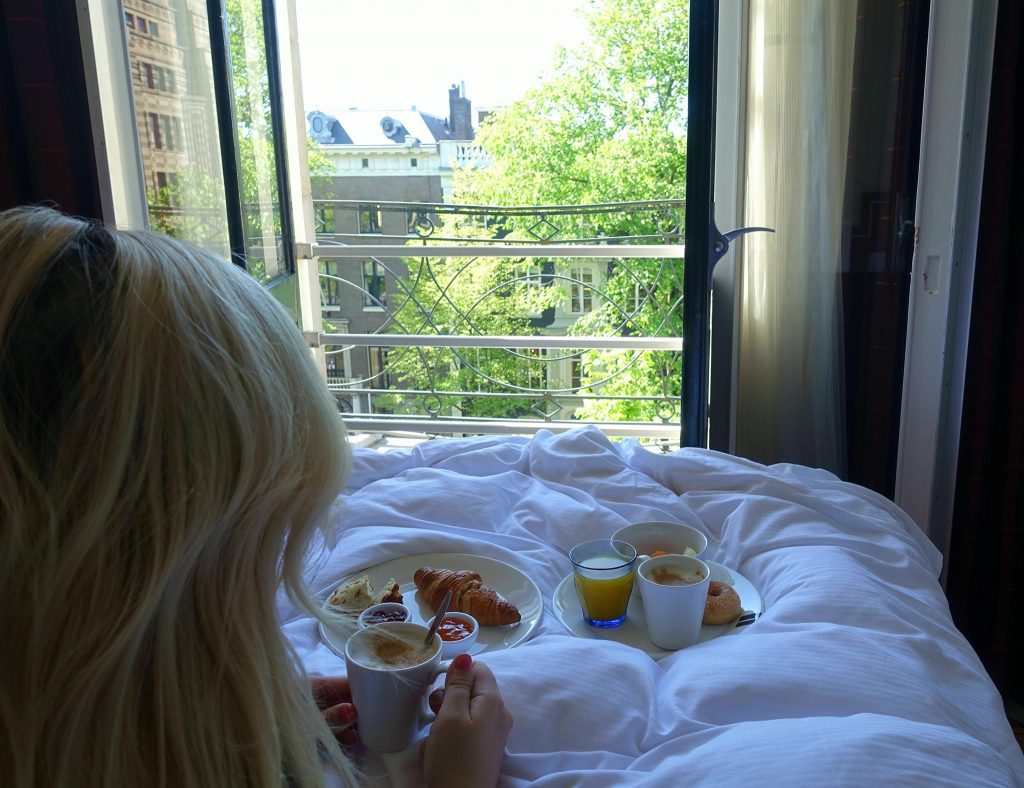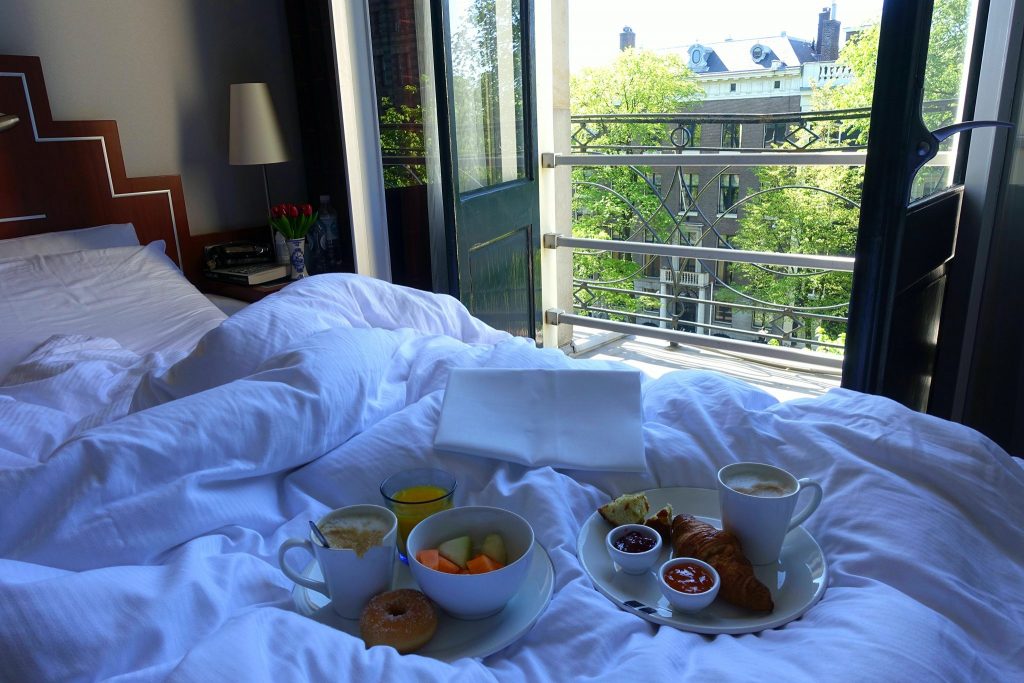 It's definitely a beautiful way to start the day and enjoy the great atmosphere of the canals in Amsterdam!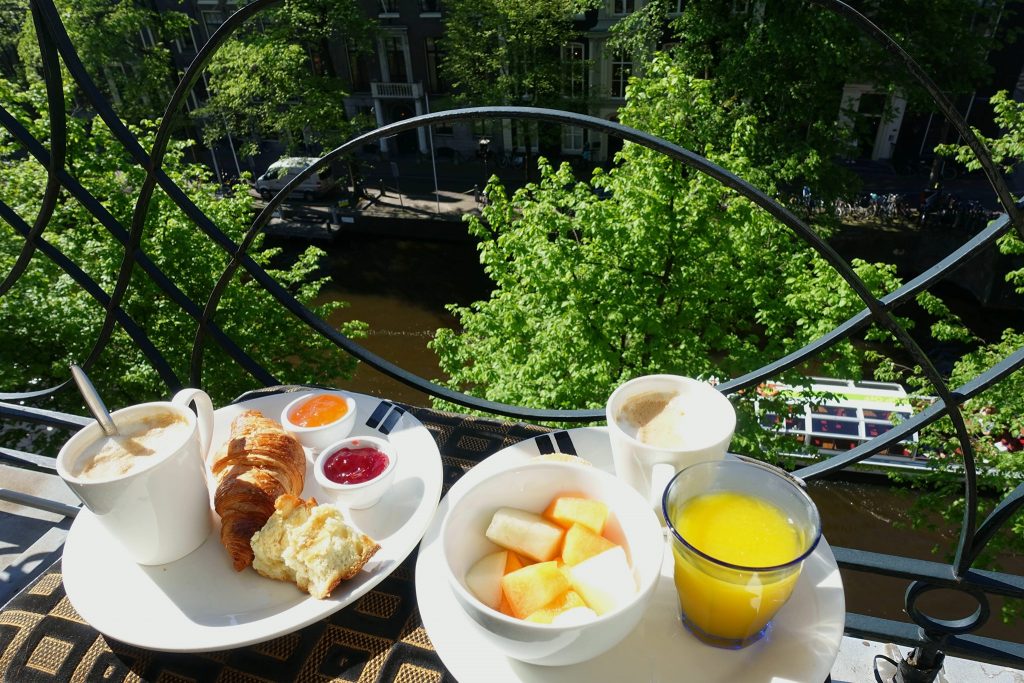 Afternoons in the living room
During our stay we made sure to come back for the daily cheese trolley and drinks in the afternoon. Because of Banks Mansion Hotel's central location in Amsterdam, this was not inconvenient at all and a great way to have a little relaxing break. You can even play some card- or board-games!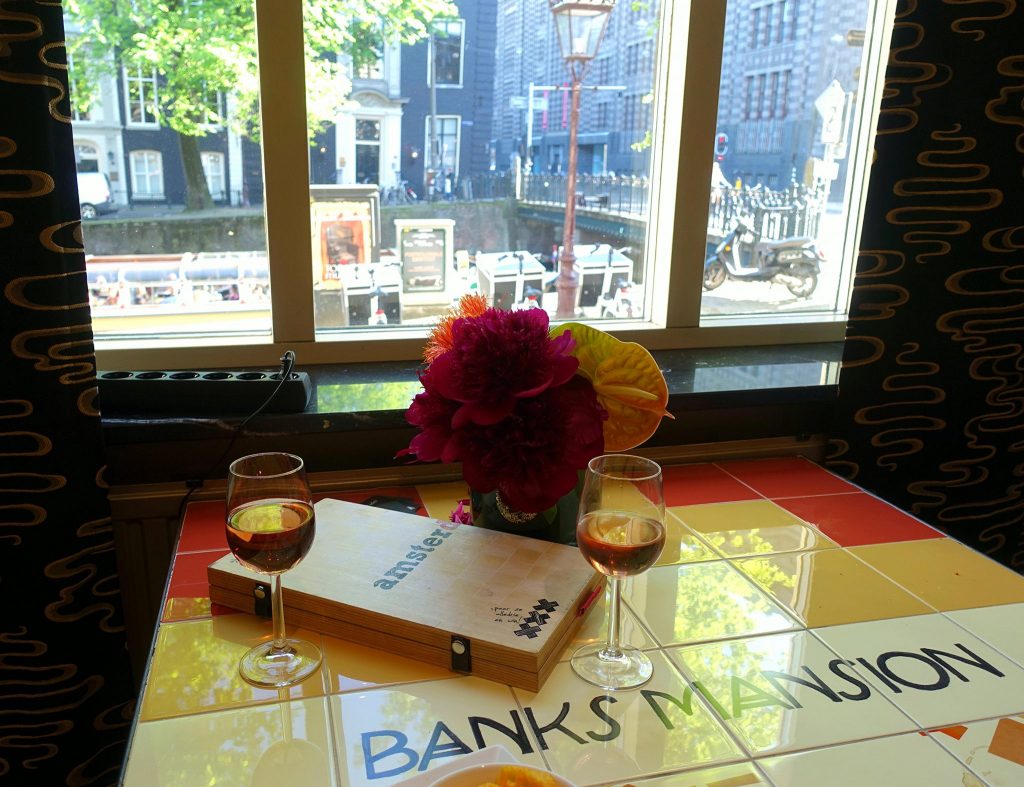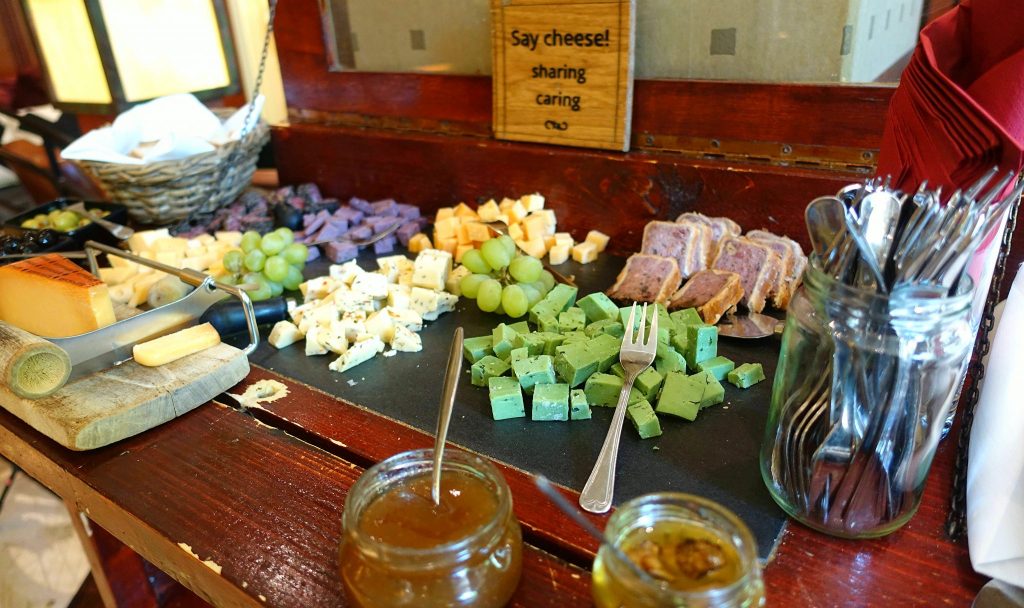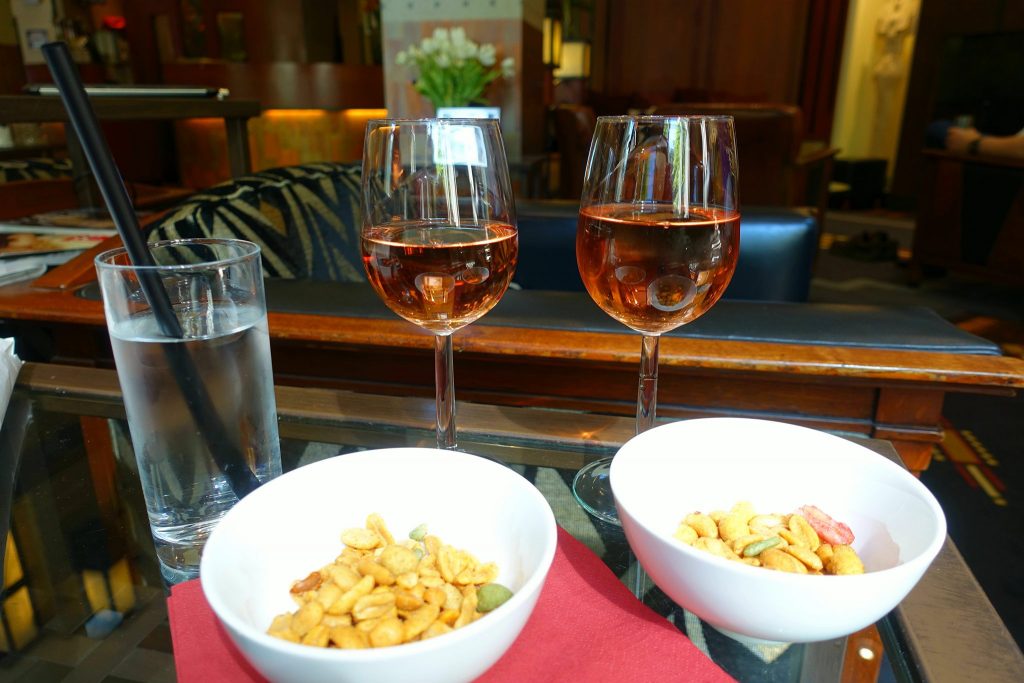 Overall experience
In a nutshell, I absolutely enjoyed staying at Banks Mansion Amsterdam and almost felt like a local. The staff members were very friendly and warm and made us feel like we're truly staying at a second home.
It was important to me to get a real Amsterdam experience within the canal ring and therefore it was definitely the best choice to stay at Banks Mansion. It would have been a pity to miss this great atmosphere and feeling a real connection with the city.
The hotel and the amazing staff absolutely made that possible, thank you so much again!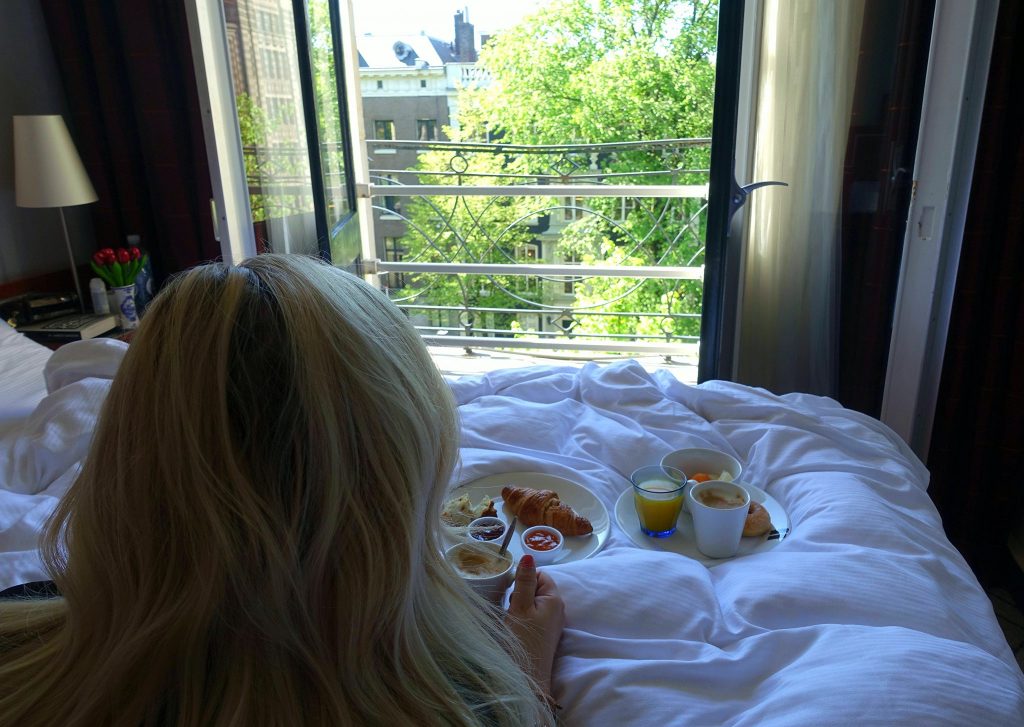 Have you stayed in Amsterdam before? Let me know about your experience in the comments below :).
Like always, this blogpost is based on my personal experiences and all opinions are my own.