Hi travellovers!
Have you been looking for a romantic hotel in Thailand for an unforgettable vacation? Do you want to travel to Koh Samui and still need to find a lovely place to stay?
Especially if you are traveling with your partner and plan a romantic getaway, I have the ultimate recommendation for you (AD/ANZEIGE).*
Read more about why staying at Outrigger Koh Samui together will make your time in Thailand absolutely special!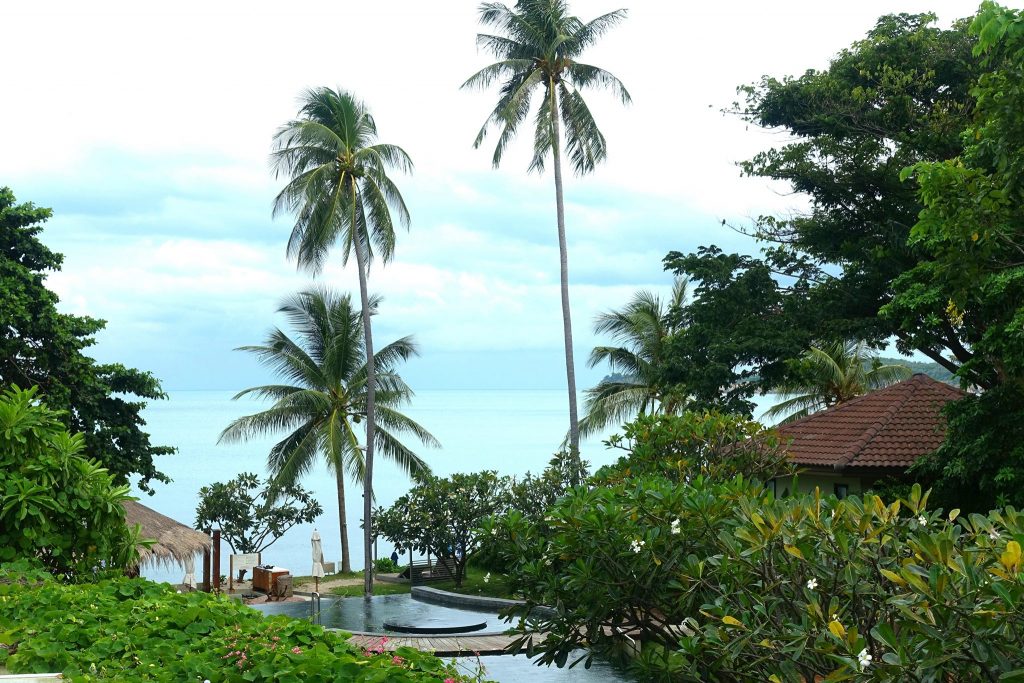 Let me first provide some key facts about Outrigger Koh Samui:
classification: 5 stars
location: Hanuman Bay, Koh Samui (north-west-coast)
capacity: 52 villas and suites (4 different options to choose from)
3 different restaurants & bars
spa, fitness center, different free time activities
top nearby locations: Big Buddha, Chaweng Beach & nightlife
wedding ceremony & honeymoon packages are available
Our stay at Outrigger Koh Samui
Let me show you our experiences at Outrigger Koh Samui. We stayed there for four nights in August 2017 but I wish we had had more time to enjoy this beautiful beach resort!
There are multiple reasons why this resort has convinced us that it is truly the most romantic hotel in Koh Samui.
This article will provide you with a detailed overview of why Outrigger Koh Samui is the best choice for your romantic getaway to Thailand.
In order to get an additional visual impression, feel free to watch our video:
Our private Pool Villa
We stayed at the most luxurious room category, the 1-bedroom- pool villa that can be occupied by up to four persons.
The villa is very spacious (100 square meters) and includes a stunning 8-meter-pool that is provided for your private use. It comes with a large terrace and a private sunbed, umbrella and chairs.
Inside the villa you experience all the comfort of a 5-star-resort, including a highly comfortable king bed, a huge bathroom with rain shower, an amazing bathtub, high performance air conditioning and so much more! See for yourself:
Inside the Pool Villa:
Outside the Pool Villa:
We absolutely loved this pool villa and found it to be the ultimate relaxing experience! No other hotel in Thailand has given us so much private space completely hidden away from eyes of other guests. The pool and the interior of the Pool Villa were very clean and provided high comfort.
The Outrigger pool area
Outside your private suite or villa you will find a luxurious resort space the provides you with everything you could possibly ask for.
What we loved most besides our Pool Villa was the shared pool area with different basins and a breathtaking ocean view!
The beach at Outrigger Koh Samui
The pool area at Outrigger Beach Resort is amazing but it's called Beach (!) Resort for a very good reason. If you get tired of relaxing by the pool you can go swimming or simply choose one of the comfortable chairs that are set up by the beach.
In case you feel more like going on an adventure, Outrigger Koh Samui has an amazing complimentary kayaking and paddleboard service. I can definitely recommend the kayaking experience since you'll get to see much more of the beautiful sea.
The breakfast
In order to start your day right you should not miss the incredibly delicious breakfast at Outrigger Koh Samui. Besides the amazing buffet, you have also complimentary a-la-carte options like different egg dishes, French toast, waffles and many more.
Lunch at Outrigger Koh Samui
For lunch there is a variety of amazing options! You could go for one of their amazingly fresh and healthy smoothies, the mouth-watering pizza from the stone oven or a variety of different Thai dishes – It's all there for you!
Oh, and have I mentioned the breathtaking lunch location yet? There's no better place to enjoy delicious food than by the beach. Can't beat this!
Dinner options at Outrigger Koh Samui
The dinner options at Outrigger are as diverse as the lunch options! A romantic dinner by the beach was our favorite option. Just look at this beautiful and utterly romantic scenery:
What we really loved about this location is the old tree in the middle! At breakfast and lunch it provides shade for you and at dinner you enjoy the beautiful lamps that create a romantic atmosphere. Instead of cutting down the tree, Outrigger has used it to create something natural and unique! We loved this!
Outrigger's menu provides a huge choice of different dishes and delicious signature cocktails that are to die for!
However, our favorite dinner was the original Thai buffet on Thursday. We can definitely recommend trying it! You will find plenty of different foods that are freshly prepared. You will also be able to indulge in fantastic desserts!
Cocktails at Outrigger Koh Samui
Outrigger offers a huge choice of traditional and signature cocktails for lunch and dinner. Furthermore I can definitely recommend WetBar to enjoy a fresh cocktail by the beach or pool!
The Spa
What's an activity not to miss while on a romantic getaway? Right, a partner spa treatment!
Our spa treatment at Outrigger Koh Samui was a 3-hour-experience that left us feeling so relaxed that even my partner vowed to visit spas more often from now on :).
Our treatment consisted of a foot bath, a relaxing flower bath, massages and facials. The staff at the spa was so friendly and sweet that we truly felt like we're in heaven. What a great experience!
Our conclusion
The luxury and comfort of staying at Outrigger Koh Samui has absolutely convinced us!
We enjoyed the most romantic and relaxing getaway we could have imagined and definitely can't wait to visit more Outrigger resorts all around the world.
Yes, that's right, Outrigger Koh Samui is only one of many stunning resorts! Find other resorts in the following locations:
Hawaii
Fiji
Guam
Mauritius
Maldives
Phuket
We can't wait for our next romantic vacation!
*Ad/Anzeige: This review is based on my personal experiences only. All opinions presented are my own.