Hi friends! Do you also love to enjoy a great city panorama at night? Then Lebua Sky Bar is the perfect place for you if you're in Bangkok! We went there to have a great evening out in Thailand's capital and were definitely not disappointed!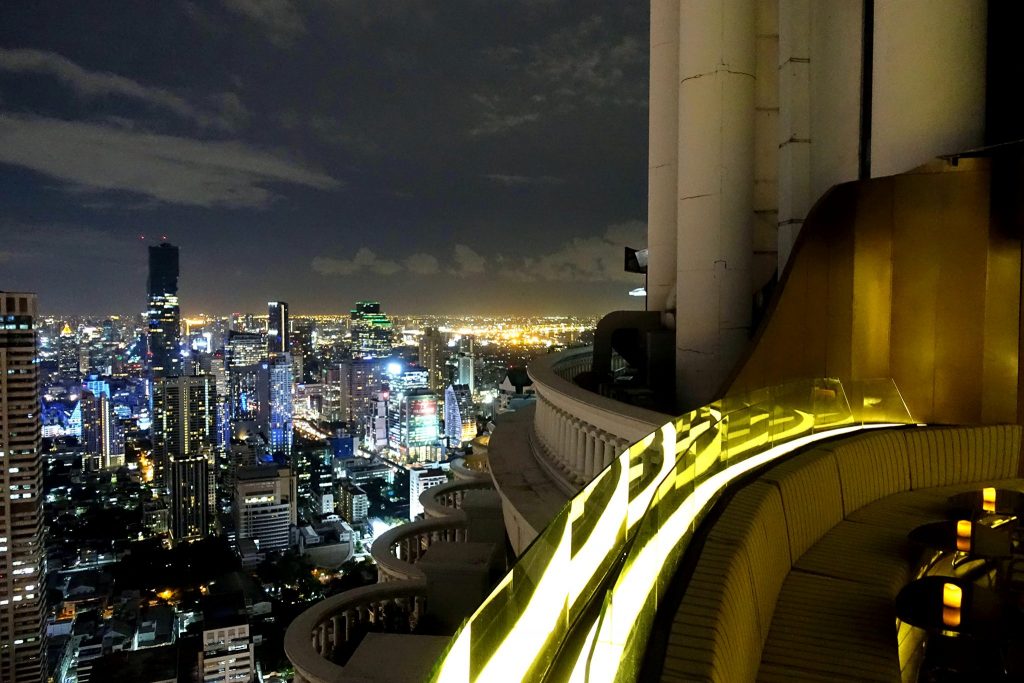 In case you're wondering what the view looks like at daytime: You have seen the movie Hangover 2, right? Remember the part in the skybar where Mr Chow got arrested? That's exactly the place.
If you can't remember, here's the scene again ;):
So as you can guess, Lebua Sky Bar is anything but boring!
Let's start with some key facts about Lebua Sky Bar:
Sky Bar is located inside Lebua State Tower, Thailand's second tallest building (Bang Ran Disctrict)
With a great view from 64th floor, it is the world's highest open-air bar
the best part is the 360-degree city panorama view including Chao Phraya River and Bangkok's skyline
Lebua Sky Bar has been featured in the movie Hangover II as mentioned above
What do you need to know for visiting Lebua Sky Bar?
You should definitely consider their dress code which is similar to any elegant bar's or restaurant's required attire
The prices of cocktails start at approximately 500 Baht (12,50 Euro), there's also an amazing choice of fine wines and different beers
In my opinion it's the easiest to go there by taxi or Tuktuk. However, it's also possible to take the boat until Sathorn (Taksin) and walk for 10 minutes to get there
opening hours are from 6pm to 1am daily
So why should you visit Lebua Sky Bar?
There are many different sky bars in Bangkok but we chose Lebua because of its superlatives (highest open air bar, featured in Hangover II, voted best sky bar several times) and were absolutely impressed.
The amazing view
It's certainly amazing to see the view at daytime but we wanted to have the full night panorama experience. Have a look at the amazing Chao Phraya River view and Bangkok's glamorous skyline:
The delicious cocktails
While we were busy enjoying Bangkok's colorful panorama at night, we tried different signature cocktails at Lebua Sky Bar. They are definitely more on the pricier side but totally worth it!
Cocktails are generally served with a delicious snack of smoked almonds. However, we also chose to have some little snacks like baby calamari on the side which were to die for!
What I really liked about the cocktail menu was the unique mix of ingredients and the combination of different flavors. In addition to that the visual presentation of the cocktails was absolutely on point. See for yourself:
Our conclusion
We were so excited about visiting Lebua Sky Bar and it has far exceeded our expectations! The view was absolutely breathtaking, the cocktails unique and delicious and the overall location simply magnificent.
Furthermore the staff was very polite and attentive which is always an important aspect on my personal check list. We'd definitely come back to Lebua Sky Bar!
Where's your favorite sky bar located? Let me know in the comments below 🙂 !